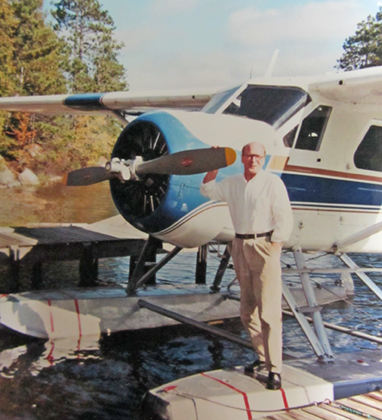 I received a heartbreaking letter Dec. 20 from Cliff Richards, a member of FFRF from Washington state, informing me that he was naming FFRF as a beneficiary on his Fidelity account, adding that FFRF could expect to receive $100,000. He very wonderfully asked to designate these funds for student activist scholarships.
The news was so welcome, as FFRF has a handful of recurring student scholarships but no major long-term fund. My excitement turned to dismay as I read Cliff's next paragraph:
"Because of the advanced nature of my cancer, I'm told that my life extension will, at best, be approximately three months. I am going to be using Washington state's Death With Dignity program that allows me to end my life if I have less than six months to live."
I quickly replied by mail, expressing FFRF's gratitude for Cliff's outstanding generosity in endowing student activist awards, noting how much the bequest would mean to many thousands of deserving students and youth activists. "This is an act of greatness," I told him.
Cliff phoned after receiving my letter, and we talked once or twice again, the last time on Dec. 29, when he told me his story. He had just retired last summer and was in the middle of relocating to the South when his cancer — Stage 4 colon cancer metastasizing to his spine — was discovered.
He was grateful he discovered it while still living in Washington, one of only five states with death with dignity laws or court rulings. Having sold his home, Cliff was ending his last days in a hotel room in the Sequim area.
His doctors warned him that the cancer could eventually lead to blockage, deadly rupture, blood poisoning and painful death. The cancer that had spread to his spine could also weaken the bone and snap his spine, leading to instant paralysis. Cliff was determined, by making use of death with dignity provisions, to avoid one or both fates.
When the subject changed to his life story, which he authorized me to publish after his death, Cliff's voice brightened. He was born July 20, 1943, in Milwaukee, grew up there and attended a Catholic grade school, high school and college, graduating with a degree in medical technology from Marquette University in 1966.
"I lost my religion when I reached the age of reason," he told me. He began questioning the "one true religion" mantra of the Catholic Church. "How can a just god say a Native American living in the woods who never heard of Jesus could go to hell because he was not baptized?"
Cliff told me, "This whole religion thing got me when I would see yet another religion was trying to impose its edicts on the rest of us." He said he "absolutely enjoyed reading Freethought Today, especially about the students and student essays. It was a breath of fresh air to see kids going out and taking on the system. We need a whole lot more of them."
• • •
After graduation, Cliff had moved to Minneapolis and got a position as chief lab manager. By age 23, he realized he had gotten as far as he could go with his degree. Hennepin County, he noted, had made Time magazine as one of the best-run county hospitals and he wondered why.
Then he realized, "Its esprit de corps was phenomenal. Administrators would come into the lab and talk to lower echelon employees, chat about family, etc." He was inspired to go into administration.
He graduated with a master's in hospital administration at the University of Ottawa in 1974 and worked in Minnesota and Georgia, where at the latter he had to desegregate the blood banks. He wound up at a 100-bed hospital in California.
He belatedly fulfilled a childhood dream to fly and earned a private pilot's license. He started a chartered airline service in 1989. The enterprising Cliff was hired by US Airways and flew for them for 11 years until being furloughed. He was then hired by a small Nevada hospital to do lab work, commuting from Washington in his own plane until retiring in June 2013.
Although engaged four times, Cliff told me he had never married. He had arranged for a longtime friend to stay with him at the end. He predicted he might last to mid-February.
On Valentine's Day, our office received a copy of Cliff's death certificate. He had died Jan. 27 at the age of 70 and was cremated Jan. 29, the birth date of Thomas Paine.
Cliff Richards had seized control of his own life and death.
He split his generous legacy between FFRF and the University of South Dakota Foundation, indicating he hoped his bequest to them would benefit Native American women students. We're so grateful to him for his generosity to freethinking students.
FFRF is proud and very thankful to be able to administer a variety of ongoing or one-time student activist awards created by other FFRF members. These include the annual $5,000 award newly endowed by Richard and Beverly Hermsen and the annual $1,000 Thomas Jefferson Youth Activist Award by Len and Karen Eisenberg.