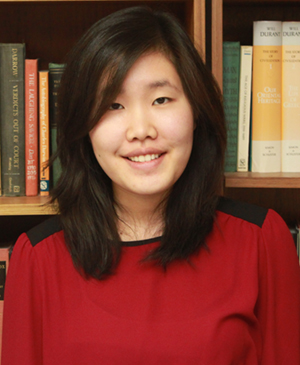 Name: Yuna Choi.
Where and when I was born: Bielefeld, Germany, Feb. 23, 1992.
Family: Mom, Dad and a 13-year-old brother.
Education: Senior psychology major at Carleton College, Northfield, Minn. I expect to graduate in 2014.
My religious upbringing was: Primarily Buddhist, although we did casually attend a Baptist church during part of my childhood. I am, however, pretty secular and have been since I was fairly young.
How I came to work as an FFRF intern: An externship opportunity at FFRF was advertised through the career center at my school. I have always been interested in religion in a philosophical way and thought that this was a good chance to become more acquainted with the political aspects of religion as well as to develop skills in public relations and journalism. Although I am a prospective medical school candidate, I wanted to extend my involvement to other areas.
What I do here: As an editorial intern, I write legal victory reports and profiles of famous "freethinkers" (Freethought of the Day), upload relevant YouTube videos, edit copy for Freethought Today and assist the publicist with various tasks.
What I like best about it: Acquiring a better understanding of the legal system through cases of First Amendment violations.
Something funny that's happened at work: I enjoy learning of the various "hate" mail and "crank" calls that FFRF receives.
My legal interests are: Separation of church and state (obviously), restorative justice, criminal prosecution/defense.
My legal heroes are: Clarence Darrow, Nelson Mandela.
These three words sum me up: Curious, empathetic, paradoxical.
Things I like: Any book by George Orwell or Kurt Vonnegut, fruit and chocolate/cheese pairings, the smell of incense, "Arrested Development" (TV show), science fiction, blunt honesty.
Things I smite: Fox News, licorice, passive aggression, chauvinism.
My loftiest goal: To find a cure for a chronic disease. Also to become proficient in Arabic (equally important and lofty).
FFRF is most appreciative of Yuna for giving us three weeks of her life, gratis, in December and making all her own living arrangements. She was immensely helpful.