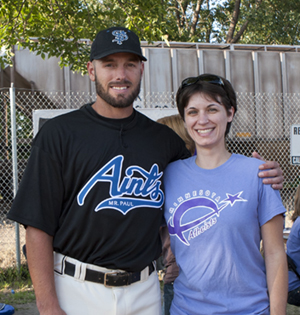 The following, reprinted with permission, first ran July 29 on minnpost.com, which publishes six days a week online from Minneapolis. Eric is president of Minnesota Atheists and an FFRF member.
Atheism and baseball may seem like an unlikely combo, but nevertheless, the Minnesota Atheists organization is celebrating America's national pastime for the second year in a row. Our group will again be "secularizing" the St. Paul Saints to the Mr. Paul Aints during their Aug. 9 game against the Sioux City Explorers.
The purpose isn't to proselytize atheism or disparage other's beliefs. Like last year, our agenda is simply to have fun, build camaraderie and exhibit our happy and friendly disposition.
According to some recent studies and anecdotal evidence, atheists are perceived by many to be untrustworthy, unethical and immoral, as well as unelectable to public office. Many have been shunned by work colleagues, friends and even family for revealing their atheism.
We clearly have public relations issues to address. Intellectual arguments about the existence of a god(s) and church/state separation have an important place in public discourse, but they don't help portray our happy and friendly nature in the public eye.
One of the major functions of Minnesota Atheists is to promote positive atheism, partly through community outreach and volunteerism and partly by providing a safe and positive social outlet for other freethinkers, whether they identify as "atheist" or not.
By partnering with the St. Paul Saints, for what is being billed as "A Night of Unbelievable Fun: The Second Coming," we are working to dispel unfair, preconceived notions about atheists while emphasizing our ability to have fun like everybody else.
Part of the fun will be the unique Mr. Paul Aints jerseys the players will wear during the game. The jerseys will be auctioned off at the end of the game, with a portion of the proceeds going to the Family Place homeless shelter in St. Paul.
There will be several other atheist-themed gags during the game. Don't be surprised if you see a Doubting Thomas at Midway Stadium questioning some of the umpires' calls!
We had nearly 300 people in our group section at last year's game, including many families with children. It's often difficult for families to connect with other freethinking families, even though we hold several family events throughout the year. Publicly celebrating who we are is incredibly empowering.
The Minnesota Atheists are grateful that the St. Paul Saints have shown exceptional tolerance in accepting us as a business partner again this year and helping us to showcase our happy and spirited character.
Our hope is that soon, all of our families, friends and colleagues will be as accepting and will also want to play ball with atheists.
"The Mr. Paul Aints Game
(Let's All Go to the)"
To the tune of "Take Me Out to the Ball Game"
Let's all go to the Aints game.
Let's all show who we are.
The big red A says a lot about us.
We're here for fun, so please don't make a fuss.
So we'll root for the Mister Paul Aints team.
For they accept us by name.
So it's hip, hip, hip, hip hooray
At the Aints ball game.
Let's have fun at the Aints game,
Tail-gate party supreme.
Hamburgers, hot dogs, and drinks for all.
Under our banner we'll all have a ball.
We will root, root, root for the pigs' race.
In Pig's Eye town there's no shame.
For it's one, two, pick up the pace
At the Aints Ball Game!
-— lyrics by Paul Heffron and Jerry Rauser