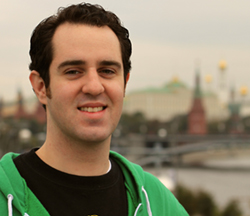 Name: Elliott Estebo.
Where I live: At this exact moment, I'm living in the driver's seat of my Toyota RAV4, but in about a week I'll be moving into a house in Malden, Mass.
Where and when I was born: St. Paul, Minn., in June 1986.
Family: My mother, Dorrie; father, Larry; brother and sister, Jeff and Mellisa.
Education: In 2010 I graduated from the University of Minnesota–Twin Cities with a bachelor's degree in philosophy and Russian. I also learned quite a lot while living in Moscow for the last two years teaching English and studying Russian and traveling across Ukraine and America this summer!
Occupation: I spent the last three years teaching English, but in less than a month I'll become a student again, this time at Tufts University's Fletcher School of Law and Diplomacy.
Military service: I've never served in the military, but I'm proud to have spent a year volunteering for AmeriCorps at Anoka-Ramsey Community College.
How I got where I am today: By not giving up on the goals that I set for myself, and of course, with a lot of help from family, friends and kind strangers. (Like Blanche DuBois, I have always depended on the kindness of strangers.)
Where I'm headed: Literally, I'm headed to Chicago this weekend, then Detroit, Toronto and finally Boston, but my goal after Tufts is to pass the Foreign Service exam and work in diplomacy.
Person in history I admire and why: I will always admire the American founders who fought to create a secular society, free from all kinds of tyranny. I especially think Thomas Paine should be a hero to all Americans. I also admire all the people who work to keep state and church separate in America today, and to make them separate all around the world.
A quotation I like: I couldn't possibly count all the great quotations that I've heard over the years on Freethought Radio. Two of my favorites are Mark Twain's "Heaven for climate, hell for company" and Robert Ingersoll's "With soap, baptism is a good thing."
These are a few of my favorite things: Sleeping in on Sundays, the summer sun and the sea, watching baseball, exploring a new city (especially on my bicycle) and books that are so good I can't stop reading.
These are not: Underpaid Moscow bus drivers, pickpockets in the Kiev metro and pious politicians in the U.S. and abroad.
My doubts about religion started: When I first found out what religion was! I remember feeling certain that I lacked religious faith when I was about 12. I took a church-organized youth group trip to Florida, and in between many group prayers and events one day, there was about an hour-long break where the youth pastor instructed us to read the bible independently.
I started reading, and when I came to the story of the flood, and read it for the first time myself, I was appalled to realize that the God everybody was worshipping and praising was really a genocidal maniac! Luckily, I could never believe any of it.
Before I die: I hope we will see a permanent shift in American society's acceptance of freethought — something like the change we have seen regarding homosexuality in the last generation. I'd also like to spend time living on every continent and seeing as much of our world as possible.
Ways I promote freethought: I try to always be honest about what I believe and don't believe when asked. I think that when more freethinkers are honest with themselves and others, and can come out of the closet, so to speak, we'll find that there are a lot more people with doubts about religion in America than it seems now. I also hope to volunteer with FFRF or a campus freethought group in Boston somehow soon.