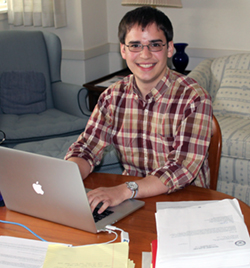 Name: Charles M. Roslof.
Where and when I was born: Chapel Hill, N.C., July 14, 1990.
Family: Mom (Cindy), dad (Ed), stepmom (Lara), older brother (Rick), younger sisters (Katharine and Lily).
Education: Miami Valley School, Dayton, Ohio, 2008; Georgetown University, B.A. in computer science with minors in linguistics and Japanese, 2012; Harvard Law School, J.D. expected in 2015.
My religious upbringing was: Methodist until age 9, then Presbyterian.
How I came to work as an FFRF legal intern: I found the position on my school's employer database when looking for constitutional law-related jobs, thought it seemed interesting and applied.
What I do here: Write letters to various agencies of government in response to complaints that they are violating the Establishment Clause, research facts and law related to those letters and occasionally help with computer issues.
What I like best about it: I've been able to work on a wide variety of issues, including some types of First Amendment violations I had never thought of before. It's kept things new and interesting all summer. I've especially enjoyed having opportunities to work on some larger issues and complex complaints involving state and federal statutes and regulations. On top of that, my fellow interns, the legal staff and everyone at FFRF are wonderful people who are great to work with.
Something funny that's happened at work: It's consistently hilarious to learn of some people's far-off interpretations of the First Amendment and what it allows them to do.
My legal interests are: Civil rights, constitutional law and the intersection of law and technology (including intellectual property law).
My legal heroes are: Anyone who, on a daily basis, puts their legal knowledge and training to use in the service of improving the world and the lives of the people in it. Also, Ruth Bader Ginsberg (not that she doesn't fall into that category).
These three words sum me up: Nerdy, empathetic, thoughtful.
Things I like: All sorts of music (from They Might Be Giants, Lady Gaga, Indigo Girls, Dresden Dolls and Dixie Chicks to the "Great American Songbook"), well-told stories across all media (television, film, books, podcasts, etc.), chocolate and other food, science fiction, technology, video games (especially Legend of Zelda ones), figuring out puzzles, methods of data organization (spreadsheets, charts, etc.) and the abbreviation "etc."
Things I smite: Dogmatism in all forms, most sports and sports culture, heteronormativity.
My loftiest goal: To become a judge.