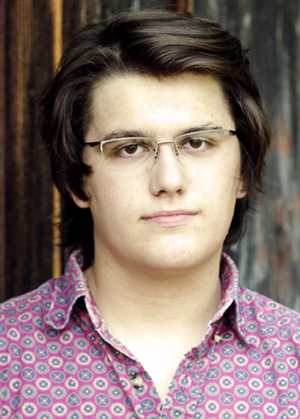 Colin was awarded $550 by FFRF for his essay.
The assistant principal's parting words to me after my two-week fight for justice were these: "You've burned bridges in this process, both with me and with the principal." Her words still resonate in my ears as I recall how Walton High School's "Freethinkers for Acceptance Cooperation and Trust" club was first denied and then begrudgingly accepted.
I had diligently met my high school's requirements for starting a club. I drafted a constitution, found prospective members and got a faculty sponsor. The day of the proposal went well. I presented my club to a committee of five students and the assistant principal and explained the club's purpose: to bring together freethinking students who are surrounded by a predominantly religious society, with the goal of showing the Walton community that freethinkers (atheists, agnostics, Unitarians, etc.) can lead morally sound lives and be genuinely good people without reporting to a higher power.
The committee rejected my club. At that point I was faced with a difficult decision. I could either give up and accept the discriminatory rejection or stand up for what I believed in.
I read over the rejection letter several times. I felt conflicted. One part of the letter stood out to me: "We cannot accept a club that holds or espouses any particular religious, political, or philosophical belief."
Did this not contradict all that I had ever learned from First Amendment bumper stickers, annual Constitution Day lessons or "School House Rock" songs? What about the long-standing religious clubs at my school, such as the Fellowship of Christian Athletes and the Jew Crew?
The rejection seemed like a clear First Amendment violation, but I thought that perhaps public schools were exempt from this rule. So I did some research.
I came across the Equal Access Act of 1984, which states that it's unlawful for any public secondary school to discriminate on the basis of religious, political, philosophical or other content. My suspicions were confirmed. I had to stand up for the club.
The next day I informed the assistant principal that the rejection violated the Equal Access Act, blatantly contradicting it word for word. I told her that the decision was not only unjust but seemingly illegal. She would not hear me out and justified the rejection by saying that "life is unfair."
After this painful second interaction, I was struck with sheer humiliation. I had poured my heart into something I believed in only to see it quelled without any serious consideration. I left her office vowing that I would do all in my power to give a voice to the freethinkers at Walton who feel alienated for espousing differing views. The assistant principal's intolerance was the catalyst for me to become a change agent.
I contacted a staff attorney from the Freedom from Religion Foundation. He helped me draft a letter to the county superintendent. A week later, the assistant principal called me back into her office and told me the club was now approved. She said I had overstepped my bounds by involving the superintendent and that I had "burned bridges."
I guess I did, but I did so for what I deem a noble cause. I was faced with a situation in which my constitutional rights were being violated, and instead of allowing the school administration to abuse its power and trample freedom of expression, I compromised my previously spotless relationship with the administration in order to stand up for my rights.
Colin Muller, 18, Evanston, Ill., is enrolled at Columbia University and will major in political science and history with an eye toward law school. In high school he was a member of the Model United Nations, president of the Freethinkers Club and Politically Active Citizens and student body treasurer.