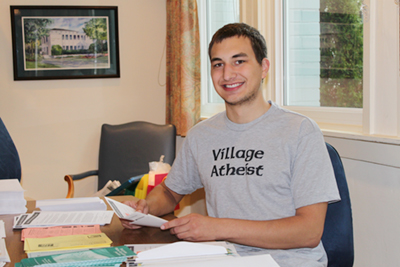 Name: Ryan Hettinger.
Where and when I was born: Milwaukee, Dec. 10, 1989.
Family: I'm the oldest of five kids. I have two younger brothers. One is graduating from high school this year and wants to become a firefighter. I also have twin sisters. The youngest has a career goal of pediatric oncology.
Why I volunteer for FFRF: I am against forcing beliefs on anyone. Politicians should keep their religious beliefs, or lack thereof, private. FFRF is fighting an uphill battle to ensure government stays neutral toward religion.
What I do as a volunteer: Anything that needs to be done — clerical work, shredding, sorting and filing letters of complaint. I also help with miscellaneous computer issues that pop up with interns and staff members.
What I like best about it: Being "behind the scenes" at Freethought Hall. It never ceases to amaze me how many flagrantly unconstitutional violations happen daily.
My day job is/was/will eventually be: A career in RFID (radio frequency identification) engineering would be fascinating and rewarding. The technology has come a long way, and there are so many uses for it on the horizon.
Education: I am in my senior year at Herzing University, pursuing a double major in computer science and clectronic engineering. I plan to travel on a shoestring upon graduation before securing a career.
These three words sum me up: Inquisitive, enterprising, open-minded.
My freethought heroes are: Thomas Paine, Arthur C. Clarke, Robert Ingersoll.
Things I like: Books! Wakeboarding on Lake Waubesa, playing devil's advocate, and making meals with real ingredients, no partially hydrogenated, high-fructose anything!
Things I smite: Blind ignorance, bigotry, proselytizing public school teachers and pious politicians.
A freethought saying I like: "Two hands at work do more than 10,000 folded in prayer."