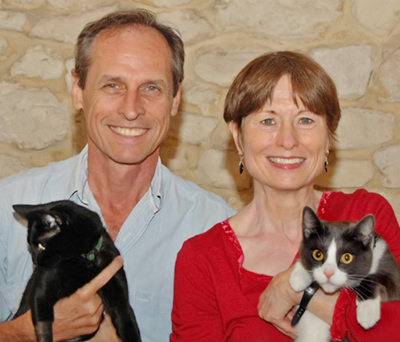 Joe and Candace Lang, with Helena and Tiny.
"It is with profound sorrow that I report to you the death of my dear wife and one of FFRF's most avid supporters and newest Life Members, Dr. Candace D. Lang." writes FFRF member Joseph Wilkins of Atlanta, Ga.
Candace died Oct. 31, 2011, in her bedroom in Atlanta, surrounded by family and friends, with her two beautiful cats, Helena and Tiny, curled at her feet.
Up until a few months before her death, she served as chair of the Department of French and Italian at Emory University. She received her undergraduate degree from Agnes Scott College and her Ph.D. from Johns Hopkins. She taught briefly at Reed College in Portland, Ore., and spent several years as professor of French at Tulane University before joining the Emory faculty in 1989. She also served two terms as president of the study-abroad consortium, EDUCO (Emory, Duke and Cornell) in Paris.
Candace, a great lover of France and French culture, was often mistaken for a native when living there. A dedicated swimmer and fitness athlete, she won the Masters champion title in the 200-meter backstroke (in her age group) in France. She held the title "for almost fifteen minutes," recounted Joe.
After descending from the awards podium, she mentioned to a race official that she thought it unusual that an American could hold a national title in France. The official looked at her with intense discomfort and asked, "You're an American? But your French is perfect!" before stripping her of the medal.
In spite of the fact that Candace was slim, fit and watched her diet carefully, she was diagnosed with lung cancer in December 2009. She had quit smoking 30 years earlier.
Her very favorite thing was to travel, Joe noted. Five weeks before Candace's death, they made a final pilgrimage to Paris and rented an apartment overlooking the Seine across from le Pont Neuf. During that unforgettable 10 days, they wined and dined all their Parisian friends.
Their last trip was in October when they attended the FFRF annual convention in Hartford, Conn. The day before the trip, Candace had undergone emergency surgery to put a drainage stent in her chest. "All the nurses and attendants looked at her like she was crazy when she announced that she intended to leave the hospital that night so she would be able to pack for her trip to Hartford," Joe said.
A nurse trained him to drain the fluid. They arrived in Hartford and even participated in the Mark Twain House tour. Although Candace was very easily fatigued, they managed to attend every single function at the convention, from the nonprayer breakfast to the final banquet with the moving and inspiring musical performance by Charles Strouse. "I even won a 'clean' $2 bill," Joe said.
Candace specified that her remains be cremated and any memorial service be nonreligious. She further asked that, in lieu of flowers, donations be sent to two charitable organizations, the first of which was the Freedom From Religion Foundation.
FFRF, which received several memorials in Candace's name, sends sincere condolences to Joe.
In a later note, Joe added that despite the "poignant articles and inspiring legal triumphs that are chronicled in Freethought Today, by far Candy's and my favorite section is the Crank Mail! Having spent her life studying the intricacies of language, Candy would always roar with laughter at the spelling and grammar displayed in those curt missives."