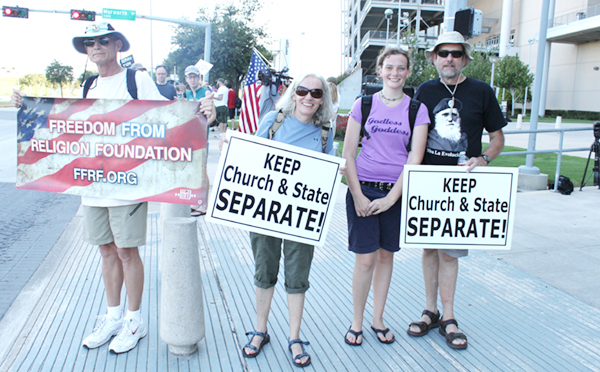 Name: Taylor Myers.
Where and when I was born: Englewood, N.J., June 5, 1990. I've lived in the New York City metropolitan area my whole life.
Family: My dad is Don Myers, an FFRF member who's a machinist. My mother is Eileen Gardner, a professor of biology at William Paterson University. Thaddeus and Kendra are my siblings, both older than me, living in New Orleans.
Education: I'm entering my senior year at Mount Holyoke College in Massachusetts, where I'm a philosophy and music double major. I started a music major for vocal performance (specifically, opera) but switched to music theory. I co-founded the Mount Holyoke Freethinkers, Atheists and Questioners (aka the FAQ) so that irreligious people could have a safe place. I'm still unsure if graduate study is right for me at this point, but law school or grad school for music theory are still on the table. If anyone has any advice for a college grad who wants to join the great world of activism, feel free to dispense that advice.
My religious upbringing was: Not religious. My father always has a few choice words to throw at religion. I found a picture book from our childhood that explains to children why there is no God and how the concept of religion is stupid, which I thought was neat. When I was about 9, I was in an art museum with my mom when I asked her, "Who's the guy in all the paintings?" Well, it was Jesus, and I just honestly didn't know what he was supposed to look like. Since then, I've made an effort to learn all I can about world religions, specifically Christianity, and I'm proud to say that the 9-year-old who didn't know who Jesus was now knows a little bit more about the bible than some of her religious friends. The last religious member of my family is my grandma, who insists on asking every time I see her "when I'm getting baptized." I consider myself an atheist, but (as with most things) tend to keep an open mind and stay flexible.
How I came to work as an FFRF legal intern: I know I want to pursue state-church activism and wanted to see what that would be like from a legal sense. I've grown up reading periodicals my dad gets from activist organizations similar to FFRF, but Freethought Today has always been my favorite.
What I do here: I research complaints, draft letters, organize the legal department's filing system, crack really bad jokes and keep tabs on Texas Gov. Rick Perry.
What I like best about it: Everything! Knowing that I'm making a difference and directly doing something about problems I've been complaining about for years is important. The office environment is pretty familial. I also like the library, where the interns "live." My first day, I don't think I did much work because I was just staring at all the books, thinking "I have to read that book" about every single one.
Something funny that's happened at work: We get a lot of really weird assignments, which are always fun and spark strange debates in the library. Also, a lot of our work concerns issues in small towns, and navigating the local websites can be such a pain. We like to see who can find the worst one, the funniest one, etc. There was one town that had a link in the middle of its home page to its seven (or so) different graveyards. For a place with such a tiny population, and a high school graduating class of nine this year, it was pretty impressive/ scary. Sharing weird findings like that make the library a really awesome place to work.
My legal interests are: The First Amendment, constitutional law and separation of state and church.
These three words sum me up: Talkative, thinking, curious.
Things I like: Feminism, atheism, "The X-Files," New Jersey, romantic comedies, David Hume, dogs, the problem of evil, music theory, opera, small-town websites that have the mayor's fax number and address listed under his/her picture, pop music, the Green Party, animal rescue shelters, human rights, Plato, the Seven Sisters colleges (Barnard, Bryn Mawr, Mount Holyoke, Radcliffe, Smith, Vassar and Wellesley).
Things I smite: Naysayers, closed minds, circular arguments, misogynists and elected officials who think it's really cool to endorse a religion with their title.