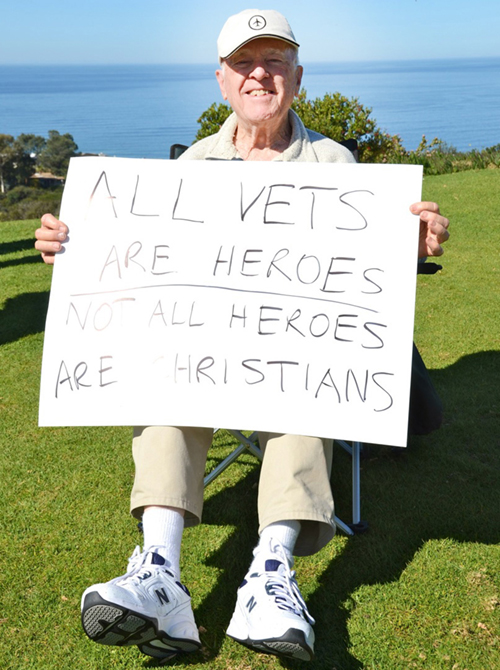 FFRF member Patrick O'Reiley counter-protested at a Feb. 9 rally of supporters of the Mount Soledad cross in La Jolla, Calif. Patrick and others gathered to support the 9th Circuit's decision a year ago ordering removal of the cross. The Liberty Counsel, a Religious Right legal group, has appealed to the Supreme Court to take the case, which has been going on for more than 20 years. Courts have consistently found the huge religious symbol on public land unconstitutional, with backers of the Latin cross belatedly attempting to portray it as a "war memorial." Congress interceded to "save the cross." Congratulations to FFRF's Life Member/Board Member Steve Trunk, principal plaintiff in the continuing saga, who is a vet and atheist. He became plaintiff after original litigant Phil Paulson, also a vet, died. Both Phil and Steve have been awarded FFRF's Atheist in Foxhole award. See their speeches about the case at:
ffrf.org/outreach/awards/atheist-in-foxhole-award/
Patrick served three years in the U.S. Army in World War II, including service with the 42nd Infantry Division in Germany. After earning two degrees, he joined the Army Reserve, was commissioned a first lieutenant and advanced to captain. After about a decade, he transferred to the Air Force Reserves and retired as a captain. Patrick is a youthful 88 and plays tennis every other day.