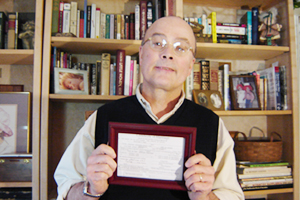 FFRF Tulsa chapter President Randy Bradley holds a marriage certificate. "The chapter was interested in making sure that the county was not reserving any special privileges for superstitious nonsense. We felt that religious affiliation should not reserve special privileges for anyone."
Nontheists wanting to say "I do" without clergy involvement in Tulsa County, Okla., may now do so, thanks to members of FFRF's Tulsa chapter.
"Up until now, the religious community has had a monopoly on who can officiate at weddings," Bill Dusenberry, an FFRF member and coordinator of the Tulsa Coalition of Reason, told the Tulsa World.
Randy Bradley, president of FFRF's Tulsa chapter; William Poire, FFRF member and president of the Atheist Community of Tulsa; and Dusenberry registered April 28 with the county to officiate at weddings.
Poire said it's the first time celebrants approved by FFRF were registered. Dusenberry, who led the effort, said having secular celebrants will add to the celebratory atmosphere and cohesiveness associated with being married by a person who's a member of one's group.
FFRF'er Ron McDaniel's research of the state statute led Dusenberry to the county, because Oklahoma makes counties the final arbiters. The county Court Clerk's Office accepted the Tulsa FFRF chapter as the equivalent of an ordaining organization for the purpose of approving celebrants. FFRF member Larry Roth designed the required letterhead stationery.
Jason Jones, supervisor of the Family Division in the Court Clerk's Office, said the three FFRF applicants presented letters stating they met that organization's requirements as celebrants. "That's good enough for us to issue the license," Jones said.
Dusenberry said the chapter has developed an application process for prospective celebrants and for couples seeking a ceremony.