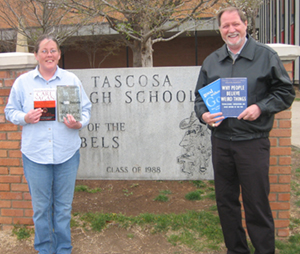 FFRF'ers Tracy Black (left) and Rodney Hinds of Freethought Oasis in Amarillo, Texas, delivered some literary food for thought March 28 to Tascosa High School's library.
A group of Texas freethinkers brought enlightenment to one Amarillo high school after being turned down at another one. Tracy Black, Freethought Oasis treasurer and event organizer, recounts the story:
"We started the book fund a few months ago. Area public libraries have very few books for atheists. The catalogue shows just two copies of The God Delusion for the entire area. The high schools are even worse. A search for 'atheism' doesn't bring up a single book, yet any given library has dozens of devotionals, bible studies and Christian living books. So we decided to make our point of view more accessible and began raising money for the books."
Black and her husband, Mike, are FFRF members and have four daughters, ages 7, 9, 12 and 18. Freethought Oasis President Rodney Hinds is also a Foundation member. The group was founded in 2009 as the Panhandle Pastafarians.
"Our first attempt did not work out," Black said. "The head librarian at Randall High School at first agreed to accept our donation, but after receiving our list of books, put us off for two months before making it clear that he would not ever be accepting donations from us."
The Randall High library didn't even have a copy of Darwin's On the Origin of the Species.
"Tascosa High School went much easier," said Black. "The head librarian approved our list almost immediately. All 10 books we donated are hardback, and most are going in the 200s [Dewey Decimal System] alongside the religious books."
Librarian Meg Hedrick noted in a letter of thanks that the school serves "over 2,300 students with various interests and cultural backgrounds, so the donation is treasured."
Tascosa students and staff can now read:
The God Delusion by Richard Dawkins; Freethinkers: A History of American Secularism by Susan Jacoby; Why People Believe Weird Things: Pseudoscience, Superstition, and Other Confusions of Our Time by Michael Shermer; The Demon-Haunted World: Science as a Candle in the Dark by Carl Sagan; The Evolution of God by Robert Wright; Infidel by Ayaan Hirsi Ali; Misquoting Jesus: The Story Behind Who Changed the Bible and Why and Jesus, Interrupted: Revealing the Hidden Contradictions in the Bible by Bart Ehrman; Good Without God by Greg Epstein; and Letter to a Christian Nation by Sam Harris. Dawkins and Jacoby are FFRF Honorary Board members.
Black said plans are to expand the list and find more libraries willing to accept free books. [Wouldn't you think that would be every library?]
"I hope that other groups or individuals in rural areas will consider this," Black said. "During my own path to atheism in my teens, I had no one to talk to and no access to any materials. I was pretty much on my own and didn't even meet another atheist until my 20s. I'd like the journey to be easier for the next generation."
Freethought Oasis also has its name on a Texas Adopt-A-Highway sign for keeping two miles of road litter-free and participated in a historical museum's Christmas open house. "We have a great museum. Everything they do is educational and secular, even the Christmas open house, so no one even batted an eye at volunteering," Black said.
Members also volunteer at the Amarillo Society for the Prevention of Cruelty to Animals and at a local community garden and worked during a drive that collected 3,500 pounds of staples for a food bank. Some battles were lost, like protesting a courthouse Ten Commandments monument in a neighboring county.
The story as recounted at freethoughtoasis.org/ is: "One of our members, a resident of Hutchinson County, had contacted county officials before construction began, informing them that the monument was unconstitutional, and that a James Madison quote which was to appear on the monument was likely fabricated in the 1930s. The completed monument includes the bogus quote, along with that pesky commandment on bearing false witness."
In a welcome to "All Rational Humans," FO member Jamie Farren writes: "Superstition, 'New Age' books, chiropractors and religion — you don't have to look far in the Texas panhandle before being confronted with the stewards of irrationality. For those of you who feel the pressure of those around you to accept such ideas yet courageously choose to press on with the sovereignty of your own minds, this website is dedicated to you.
"Let this be a place where ideas may be judged on their own merits, with their success or failure to be determined by the highest of human virtues: Reason."