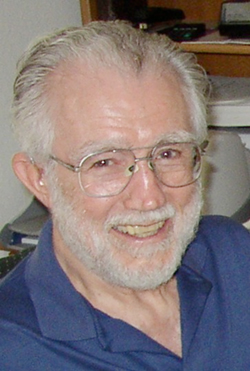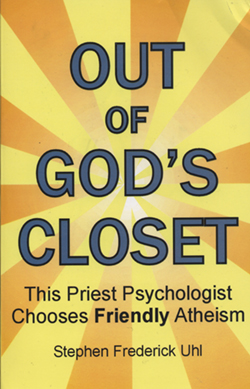 Name: Stephen F. Uhl.
Where I live: Oro Valley, Ariz., a north suburb of Tucson.
Where and when I was born: Rural southern Indiana, 1930. My parents had nine children. First came four daughters. I was the second son and was followed by three brothers.
Family: Diane, my wife. We were married on the Winter Solstice in 1968.
Education (formal and informal): At 14, I entered the boarding seminary at Saint Meinrad [Ind.] Archabbey, a Swiss order of Benedictine monks, where I stayed six years. My major seminary studies (also six years) were at Marmion Abbey in Aurora, Ill. I was ordained in 1956 as a priest, after which I was sent to Catholic University in Washington, D.C., where I earned an S.T.L. degree (Sacrae Theologiae Licentia). After I left the priesthood in 1967, I earned a Ph.D. in psychology from Loyola University in Chicago.
Occupation: I taught high school religion and mathematics and counseled at the Benedictine Marmion Military Academy for 10 years. On weekends, I engaged in pastoral work at northern Illinois parishes.
Freed from the priesthood, I taught public high school math and became a certified school psychologist. I opened a private practice as a psychologist in 1976, from which I eventually retired.
How I got where I am today: My mother not only gave me my vocation to the priesthood, she gave me a deep love of learning. The superstitions learned in early childhood came into conflict with my adult learnings. The common sense I had learned from my father (a farmer) drove me to follow my reasoning conscience and break the bonds of traditional superstition. Now I am more totally free to appreciate the wonders of the real planetary present.
Steve Uhl says that as he's aged, he's noticed "more of the growing tyranny of the Christian majority in this great land of ours."
Where I'm headed: Like all of us, I am headed to oblivion soon. But at age 80, I still enjoy a great wife, good friends and neighbors and the inexorable march of scientific progress that shows to all who are alert that facts are more fun than fiction. And I trust that my little book, Out of God's Closet, will help readers enjoy freedom from outdated superstition without any imaginary guilt.
Pezrson in history I admire: Robert Green Ingersoll for his eloquent and courageous efforts in expounding freethought.
A quotation I like: "The time to be happy is now; the place to be happy is here; the way to be happy is to make others so." (Robert Green Ingersoll)
One more, from the Roman philosopher Seneca, is precious: "Religion is regarded by the common people as true, by the wise as false, and by the rulers as useful."
These are a few of my favorite things: My relationship with Diane, Friday community happy hour, solving practical problems, fixing broken things and enjoying the appreciation from those I helped, the science-based frankness of PZ Myers, Richard Dawkins' articulate rants against the pope, and the joyful freedom of atheism.
These are not: Jesus-loving Christians who hate and terrorize atheists; a pope theoretically representing over a billion people taking medieval, anti-scientific stances, especially on birth control and stem cell research; the hypocrisy of "preying" clergy; the inhumane waste in our penal system that overstresses vengeful punishment (of the "sinner") and almost ignores responsible restitution to the injured; politicians and ignorant voters who stand in the way of letting the Fair Tax Act (HR 25 and SB 25) eliminate the IRS and most all taxes; witnessing a "smart" President Obama preaching a religious sermon at a National Prayer Breakfast.
My doubts about religion started: Serious doubts started one morning in the monastery chapel in 1964 when I was 34 and was meditating on the intellectual proofs of God's existence. I had a "lightning bolt" insight in which I clearly saw how St. Thomas Aquinas' supposedly strongest proof (his causality proof) fell far short, because it was based on an unwarranted assumption.
Why I'm a freethinker: Because life for me and for fellow human neighbors is richer (and continues to become more so) when based on reason than when guided by thoughtless superstition.
Ways I promote freethought: Periodic lectures, magazine articles, website (outofgodscloset.com) and podcast (nogods.libsyn.com), gifts and sales of the paperback Out of God's Closet and cash donations to outstanding atheist organizations.
To contact the author or order the book, go to outofgodscloset.com/ or call 1-800-255-9929, ext. 25 (Publishers Express Press).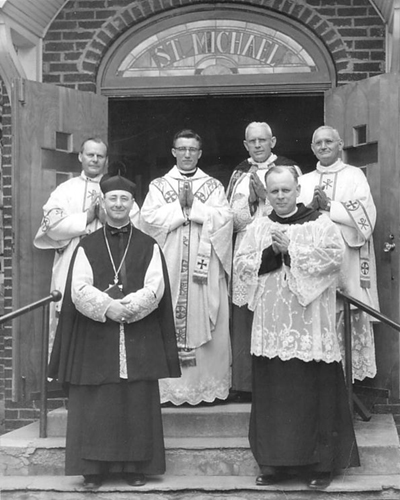 Fr. Stephen Uhl (back row, second from left), in Bradford, Ind., on the day he celebrated his first Mass. He was a Catholic priest for 11 years, but first became a Benedictine monk during 12 years of seminary training.