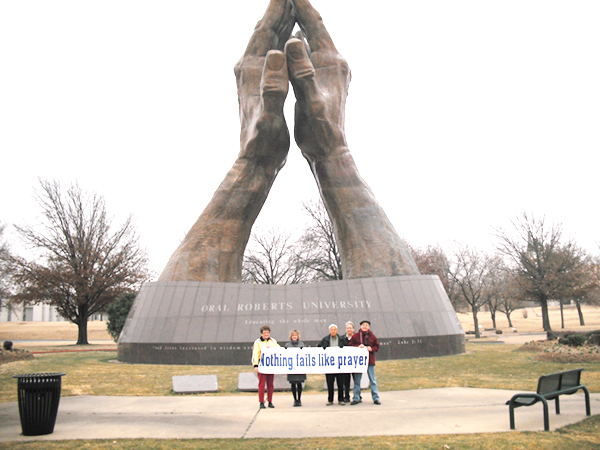 FFRF Co-President Annie Laurie Gaylor's December visit to Tulsa, Okla., included a stop at Oral Roberts University. The six-story, 30-ton bronze sculpture named "The Healing Hands" was cast in 1980 in Juarez, Mexico, and then installed at the evangelist's City of Faith Medical and Research Center (one hand represents prayer, the other medicine). When the hospital went broke in 1989, the statue was moved to its current home at ORU.
ORU founder, faith healer and televangelist Oral Roberts was notorious for his fundraising ploy when he announced in 1987 that God would "call me home" unless he raised $8 million. ("God" finally called him home in 2009.)
From left are Marilyn Clarke, Annie Laurie Gaylor, Ron McDaniel, Bill Dusenberry and Tulsa chapter President Randy Bradley. Activist Dan Nerren took the photo. Dan designed the banner to protest city government observances of the National Day of Prayer. Annie Laurie met members of FFRF's new Tulsa chapter and also addressed a meeting of the Humanist Association of Tulsa. She thanks all her Tulsa hosts.