Wis. board denies biblical charter school
FFRF sent a letter Nov. 19 to the West Bend (Wis.) Joint School District objecting to Baptist Pastor Bruce Dunford's plan for a religious charter school called Crossroads Academy. The school was to be based on the "Hillsdale Academy Model," which offers "instruction based upon traditional, nondenominational biblical beliefs." The curriculum contained materials from A Beka Book publications, which describes itself as "unashamedly Christian and traditional." A curriculum consultant for the school also said that "intelligent design" would be taught in the school.
"A public school system cannot financially or otherwise provide direct aid to schools performing religious instruction," noted Staff Attorney Patrick Elliott. FFRF also sent an Action Alert to West Bend-area members.
The School Board voted 4-3 against the plan at a Nov. 22 meeting attended by about 200 people. The Milwaukee Journal Sentinel reported that one of the three "aye" votes was by a member who is also a deacon in Dunford's church.
'Faith in God' gone in Mississippi
Clinton (Miss.) Public Schools removed "Faith in God is the cornerstone of our community" as part of its mission statement after receiving an FFRF letter of complaint. "Listing 'Faith in God' as an important value violates the First Amendment because it imposes religious sentiments upon students and their parents within the school district," wrote Senior Staff Attorney Rebecca Markert.
The district superintendent responded Nov. 15: "The Clinton Board of Trustees voted to delete our 'belief' statements from our strategic plan and to remove it totally from our mission and vision statements. . . . It has been pulled from our district and local websites, our boardroom, and I am currently reviewing all documents to make sure that the belief statements are not posted in any official document."
War on breakfast continues unabated!
The town of Ocean City, Md., agreed to stop selling tickets at City Hall to the 21st annual Mayor's Prayer Breakfast after receiving a Dec. 1 letter of complaint from FFRF Senior Staff Attorney Rebecca Markert.
Co-director for the Dec. 10 event at a private hotel was City Council member Doug Cymek. The event's organizer, Bruce Spangler, claimed the U.S. "was founded upon biblical values, and we've really turned away from it. That's not because of the people, but because of the government shutting God out of everything."
"The city must refrain from expending any further taxpayer dollars, using publicly funded employees and drawing on any other publicly funded resources to promote the religious prayer breakfast," Markert wrote. "This includes publicizing the event on the city website, advertising and handling ticket sales, and being a sponsor (or co-sponsor) of the event."
On Dec. 9, City Solicitor Gus Ayres III, responded by letter. "It is correct that tickets for the event have been available for purchase at City Hall. That practice will be discontinued."
Sheriff cleans up website after letter
Staff Attorney Patrick Elliott wrote Prentiss County Sheriff Randy Tolar, Booneville, Miss., on Nov. 9 about a rotating Latin cross near the "Chaplin [sic] Ride-along" tab on his departmental website. The cross appeared on every page of the site.
A friend of FFRF had noticed the cross and also spotted that the property list for the county jail said that inmates could have three books but that "One of the books must be a Bible."
While both violations are off the site now, Elliott has asked the county Criminal Justice Center to clarify the book policy.
School: Staff can't pray at the pole
Staff members at Chino High School in California participated in an annual "See You at the Pole" event, where students met at the school's flagpole to pray before classes on the fourth Wednesday of September. "See You at the Pole" started in Texas in 1990, ostensibly as "student-initiated" and "student-led" religious expression.
But far from being a spontaneous eruption by devout public school students, the event has been carefully nurtured and orchestrated by youth pastors, churches and national religious groups.
Rebecca Markert, FFRF senior staff attorney, noted in an Oct. 1 letter to the school district: "It is grossly inappropriate for teachers, other public school employees or outside adults to actively participate in or promote these student-run religious organizations." Markert pointed out that the U.S. Supreme Court has ruled that public employees should refrain from participating in religious activities to avoid any perception of government endorsement of religion.
The district responded that its investigation confirmed FFRF's complaint and took the following steps: "Principals were directed to enforce the Establishment Clause to ensure that staff members are not involved in student-run prayer groups. . . . staff members [were instructed to] not promote, lead or participate in such activities, [the violation of which] could result in disciplinary action by the district."
Minnesota prayer tied freedom to Jesus
A parent contacted FFRF after all K-12 students in Pillager (Minn.) Public Schools attended a Veterans Day program that included an invocation from a Baptist pastor. The prayer said in part, "[W]e also acknowledge today that we are here because you provided that freedom to us. We know that that freedom is available only through Jesus Christ. So Lord, we lift you up today."
The parent also said that prayers were a regular practice at graduation ceremonies. FFRF Staff Attorney Patrick Elliott wrote to the school district Nov. 19, saying, "It is unlawful for any school-sponsored event, such as a school-sponsored Veterans Day assembly, to open with prayer." Elliott cited a number of Supreme Court cases that found prayers at school events unconstitutional.
An attorney representing Pillager Public Schools responded Nov. 29, claiming that the district's practices were legal, but assured FFRF that, "in the future, school-sponsored events, including graduation ceremonies and Veterans Day programs, will no longer include prayer led by religious figures."
Indiana mentor program modified
Hamilton Southeastern School District (Fishers, Ind.) received a letter in September from attorney Robert Tiernan on behalf of FFRF and an FFRF complainant in objection to a school mentoring program that included the promotion in the curriculum of a "religious community" and "spiritual development."
The mentor program was established at Fishers Junior High "to target students who have trouble fitting in or who could benefit from meeting with a mentor on a weekly basis." The curriculum is called "40 Developmental Assets." Asset 19 states: "Religious Community — Young person spends one or more hours per week in activities in a religious institution."
Tiernan represented the Foundation in a 2007 suit, FFRF v. Cherry Creek School District, which resulted in the revising of Asset 19 to more secular language. "The point of the revised language is to eliminate the favoritism given to religion over nonreligion by the original version of Asset 19," wrote Tiernan in the letter to the Hamilton Southeastern School District. The district responded Nov. 11 that Asset 19 has been modified to read: "Intergenerational Activities — Young person spends one or more hours per week in activities with civic, social, governmental, scientific, educational, charitable, faith based or secular (nonreligious) organizations."
Kindergartners stop daily 'blessing song'
A prospective FFRF member in Tarboro, N.C., contacted the Foundation after hearing her son, who is in kindergarten, sing "God, Our Father" (to the tune of "Frère Jacques"). He told her they always sing the song before lunch. The song asks for "a blessing" and ends "amen."
Senior Staff Attorney Rebecca Markert objected in an Oct. 11 letter to Edgecombe County Schools Superintendent Wayne Talley. While the school hasn't formally responded, the complainant said in a Nov. 8 e-mail that the students aren't singing the "blessing song" anymore. A follow-up letter to Talley was sent Dec. 1.
'Tis the season for nativity violations
As FFRF members alert the Foundation about potentially illegal nativity scenes on public property, Senior Staff Attorney Rebecca Markert goes to work.
She sent a letter Dec. 6 to Mayor Mike Murphy in Grants Pass, Ore., after a resident reported a large nativity scene on the roof of a city-owned building that houses a travel agency and the Grants Pass Visitor Information Center, to whom the city rents space.
"The Supreme Court has ruled it is impermissible to place a nativity scene as the sole focus of a display on government property," Markert wrote.
A similar letter went Dec. 7 to Mayor John Wolfe in Whitehall, Ohio, about a crèche by the entrance to City Hall. An Action Alert was also sent to area members about the violation. FFRF also complained in 2007 and 2008 about the scene.
Markert also wrote Mayor Jeannette McCarthy in Waltham, Mass., on Dec. 7 about a stand-alone crèche on Waltham Common behind City Hall.
FFRF filed an open-records request for copies of city policy or guidelines on erecting private displays on public property and for copies of any applications or permits for nativity displays.
Terry Whittington, Gladwin County Board of Commissioners chairman in Gladwin, Mich., got a letter Dec. 6 from Markert about a nativity scene on the grounds of the County Building. Open-records requests for policies and contracts were also filed.
Water tower crosses loom over Tenn. towns
FFRF alerted municipal officials in Somerville and Whiteville, Tenn., to constitutional violations of displaying Christian crosses on government property.
In Dec. 8 letters, Senior Staff Attorney Rebecca Markert reminded Somerville Mayor Bob Morris and Whiteville Mayor James Bellar that "No court of final resort has ever upheld the government's permanent display of a Latin cross on public land as constitutional. The inherent religious significance of the Latin cross is undeniable and is not disguisable."
The crosses atop the Somerville and Whiteville water towers are both illuminated at night.
Field trip to Catholic shrine protested
The Social Studies Club at Alexander High School, Alexander, N.Y., scheduled a visit to the National Shrine of St. Elizabeth Seton as part of its field trip scheduled for April 2011 to Washington, D.C. (Mother Seton was the first native-born American Catholic saint.)
FFRF's Nov. 26 letter to the school noted that "the Seton Shrine has no discernible secular significance" and "appears to be an impermissible school endorsement and furthering of Catholic doctrine." FFRF is awaiting a reply.
Flag-folding ritual had religious twist
A complaint was received about a Veterans Day flag-folding ceremony at Massabesic High School, Waterboro, Maine. Students were required to attend an assembly at which Navy Junior Reserve Officers Training Corp personnel recited "The Meaning Behind the Folding Ceremonies of the Flag."
Several of the narratives describing each fold contain religious references, for example, "The eleventh fold, in the eyes of a Hebrew citizen, represents the lower portion of the seal of King David and King Solomon, and glorifies, in their eyes, the God of Abraham, Isaac, and Jacob.
"The twelfth fold, in the eyes of a Christian citizen, represents an emblem of eternity and glorifies, in their eyes, God the Father, The Son, and Holy Ghost."
Senior Staff Attorney Rebecca Markert wrote Superintendent Frank Sherburne on Nov. 23: "While it is laudable for MHS to organize, sponsor and host a Veterans Day assembly, it is very inappropriate to include religious dogma as part of that program. MHS cannot allow Christian or otherwise religious messages to be part of school-sponsored activities such as student assemblies."
Commandments push falls flat in Florida
Mayor John Sullivan of Cape Coral, Fla., wanted to display the Ten Commandments in the City Council's chambers as a "reminder" for citizens to "straighten up."
FFRF Staff Attorney Patrick Elliott wrote a Nov. 12 letter expressing constitutional concerns about the proposed display and related inappropriate remarks by John Sullivan. The Fort Myers News-Press reported that he said, "I don't want to do this in a haphazard way or open up a can of worms, but I think it is a good idea. I don't see this as separation of church and state. Our laws were built on the Ten Commandments. It's getting back to our core values."
Elliott wrote, "Mayor Sullivan supports the display based on an impermissible nonsecular purpose. Placing the Ten Commandments on public property for the purpose of teaching the community 'good morals,' will not withstand court scrutiny." A Nov. 16 story in the Lehigh Acres Citizen reported that Sullivan's plan got little support at a Nov. 15 meeting and likely would die. Council member Pete Brandt said although he's "a constitutional conservative," he wouldn't support the plan.
Council member Chris Chulakes-Leetz said Judeo-Christian values led to the systematic destruction of indigenous peoples. "I hope they didn't have a copy of the Ten Commandments in their pockets while they slaughtered Native Americans."
Christian Heritage Week gets thumbs down
FFRF sent letters of complaint Nov. 19 on behalf of its 700 Florida members and a local resident objecting to proclamations declaring Christian Heritage Week by the Vero Beach City Council and the Indian River County Board of Commissioners.
The two boards declared Nov. 21-27 as Christian Heritage Week at the request of the Indian River Family Association, an affiliate of the American Family Association, a conservative Christian evangelical group which works to breach the state-church wall of separation and to deny civil rights to gays and reproductive rights to women. The county's proclamation also praises AFA's "contribution to the quality of life in Indian River County."
Both proclamations selectively quote Presidents George Washington and Thomas Jefferson and Virginia statesman George Mason.
The Washington quote is particularly troubling, noted Senior Staff Attorney Rebecca Markert. "Not only is our first president misquoted, but the quote also omits key wording and is generally misleading and taken out of context."
The proclamations also perpetuate the patently false myth that America was founded as a Christian nation, Markert wrote. In addition, they exclude and offend a significant proportion of the population which is non-Christian or nonreligious.
Instead of issuing a proclamation celebrating a religious faith and group, FFRF urged the public boards to issue proclamations celebrating freedom of conscience and state-church separation. Draft proclamations for a Give Thanks For State/Church Separation Week were included with the letters.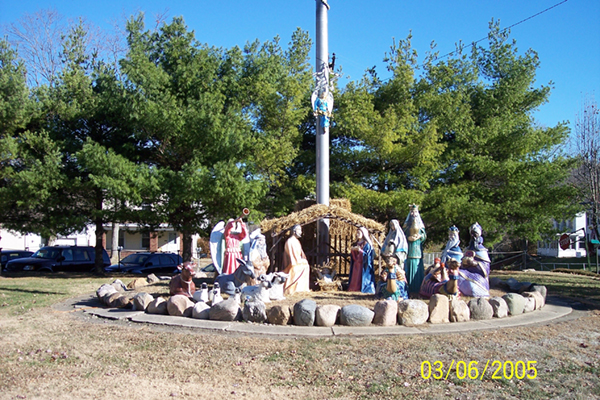 The Franklin County Courthouse in Brookville, Ind., is home to a life-size nativity scene including an angel affixed to the flagpole. FFRF sent a letter of complaint Nov. 26 to officials that the display does not fit the legal description of a seasonal holiday display. The complaint has received widespread area news coverage. The county attorney is reviewing the matter.