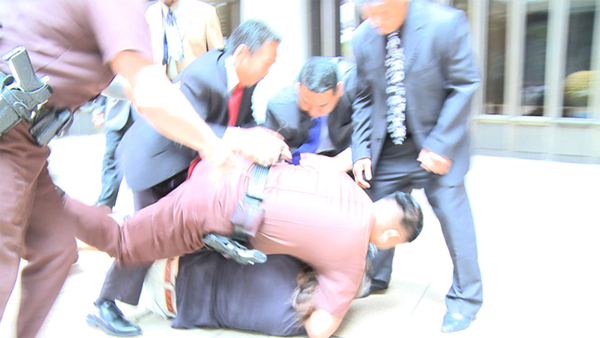 Last April 29 in Honolulu, Mitch Kahle stood tall for nine seconds to separate state from church as the Hawaii Senate opened its daily session with Christian prayer.
As a Baptist pastor was reciting an invocation which invoked Jesus' name, Kahle stood in the Senate gallery and said, "I object. My name is Mitch Kahle, and I object to this prayer on the grounds that it's a violation of the First Amendment of the Constitution of the United States. I object."
Kahle, an FFRF member and head of Hawaii Citizens for the Separation of State and Church, had notified legislators in advance that he would be peacefully protesting the prayer as an act of civil disobedience. After objecting, he sat down as Bienvenido Villaflor, the Senate's sergeant-at-arms, and security personnel came to remove him and fellow activist Kevin Hughes, who had Kahle's video camera, from the building. At that moment, Kahle's wife, Holly Huber, stood up in another part of the gallery to object to the prayer.
Video cameras, including one from Hawaii News Now, caught the ensuing scuffle on tape as security frog-marched Kahle outdoors and threw him to the ground. Hughes was also attacked.
At a Nov. 17 hearing before District Court Judge Leslie Hayashi, Kahle's motion for acquittal on a disorderly conduct charge was granted after the judge watched the video.
William Harrison, Kahle's attorney, praised the judge for her ruling and for recognizing his client's right to speak in a public forum. "[T]he Legislature was violating our U.S. Constitution as well as the Hawaii Constitution by having these invocations," Harrison added.
Kahle and Hughes filed a civil suit Nov. 30 against Villaflor (a former professional boxer) and several other defendants for false arrest, malicious prosecution, assault and battery and other allegations. The suit alleges Villaflor and his assistants viciously assaulted the plaintiffs without cause and that sheriff's deputies stood by without intervening.
Kahle also asked the Honolulu City Council in April to stop praying at meetings, and for a time it did until a new chairman was seated Nov. 22.
Kahle was interviewed on Free-thought Radio's Dec. 4 show:
ffrf.org/news/radio/shows
Video of the prayer and arrest:
youtube.com/watch?v=4h7ekCD6uE4