Chapters (25)
Children categories
October 19, 2014 - Adults Playing in the Dirt! The Birmingham Paleontological Society
Leisa Whitlow, Birmingham Paleontological Society President, and other BPS members will speak on the fascinating fossils of Alabama and provide a number of actual specimens for our examination.
The Birmingham Paleontological Society (BPS) is an active group which enjoys learning and teaching about the science of paleontology. They enjoy collecting fossils, collecting items for research, learning about the significance of their finds, and just being in the outdoors. BPS benefits professionals by providing access to eager hands for help with their dig projects. BPS has a fossil dig once each month, usually in Alabama, and occasionally in a nearby state.
Program Schedule
Meet & Greet 11:00
Covered Dish 12:00 (show off your culinary craft)
Program 1:00
September 21, 2014 - Mandisa Thomas
Mandisa Thomas, a native of New York City, is a founder and current President of Black Nonbelievers, Inc. Although never formally indoctrinated into belief, Mandisa was heavily exposed to Christianity, Black Nationalism and a bit of Islam. She has been featured in JET Magazine, as a speaker with such organizations as American Atheists and the Secular Student Alliance, and currently serves on the Board of Directors with Foundation Beyond Belief and the Secular Coalition for America.
Program Schedule
Meet & Greet 11:00
Covered Dish 12:00 (show off your culinary craft)
Program 1:00
%250 %America/Chicago, %2014
An affiliate of the Freedom From Religion Foundation
Our goal: To educate the public on matters of non-theism and protect the First Amendment – Separation of Religion from Government.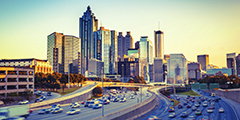 FFRF-Georgia is a local chapter of the Freedom From Religion Foundation. We are a non-religious community of local people committed to living our lives free from superstition, dogma and mysticism. We are freethinkers – people who form opinions about religion and spirituality independent of tradition, authority, or established belief in favor of rational inquiry.
Our members are composed of Agnostics, Atheists, Humanists, Skeptics, Deists and secular-minded people still searching for answers who come from all walks of life. The common thread we all share is that we uphold the US and Georgia Constitutional principles of separation between government and religion.
Living in the current "Christian Frenzy" era, that has been gaining popularity by leaps and bounds since the mid-1950's, accelerated by 9/11, we must be ever more vigilant about Christian Fundamentalism working hard to dominate the political arena at all levels.
Atlanta is wonderfully supplied with many organizations which all provide many social opportunities for the local freethinkers such as book clubs, community service projects, skeptic gatherings, historical discussions, notable speakers, activist opportunities and other events. This FFRF chapter participates and supports these types of events and encourages members looking for these social opportunities to join freethinker groups in the area.
The reason we formed this chapter is to support eyes and ears on the ground for separation issues. We locally organize and educate the public, submit letters to the editor, news releases, deliver legally savvy communication to our local government agencies, including one-on-one encounters, as appropriate, by our members, and legally taking appropriate action to preserve our rights when necessary.
If you are a freethinker who is supportive of the separation of church and state, please feel free to email us with any questions you have. To join our local Chapter, first join the national FFRF organization at http://ffrf.org, and then send us an email to FFRF-GA Treasurer This email address is being protected from spambots. You need JavaScript enabled to view it. to join locally.
Contact Us:
Legal, Jon Poss
Community Outreach, Terri Goins This email address is being protected from spambots. You need JavaScript enabled to view it.
Treasurer, Mark Banks This email address is being protected from spambots. You need JavaScript enabled to view it.
June 15, 2014 - Jerry Dockery
The Panama Canal is 100 yrs old this year! On June 15, our program speaker will be Jerry Dockery. Jerry spent the first 18 years of his life in Panama as his grandfather worked with the Army Corp of Engineers to build the Canal. Mr. Dockery will share a slideshow and his experiences with us.
Program Schedule
Meet & Greet 11:00
Covered Dish 12:00 (show off your culinary craft)
Program 1:00
February 16, 2014 - Dennis Martin
Alabama Freethought's next Lake Hypatia Speaker Series will be Sunday, February 16, 2014, at our Lake Hypatia Advance. Click here for a map to Lake Hypatia.

Our speaker in February will be Dr. Dennis Martin, secretary of the Atlanta Freethought Society. With a Ph.D. in philosophy as well as a degree in mathematics, Dr. Martin has taught for over 36 years including topics of philosophy, critical thinking, formal logic, history of ethics, business ethics, contemporary moral issues, philosophy of religion, philosophy of atheism, epistemology, metaphysics, philosophy of human nature, and decision-making.

In this program, Dr. Martin will discuss the more fundamental ideas embraced by freethinkers and secular humanists alike, how those ideas arose in history, and how you can show their importance to your non-freethinking friends today. Many people assume that "Freethought" is just a polite code word for "Atheism." While atheism is a likely consequence of Freethought, the two ideas are not identical and the differences matter. The audience will be encouraged to participate in the discussion with their own examples and ideas.
Program Schedule
Meet & Greet 11:00
Covered Dish 12:00 (show off your culinary craft)
Program 1:00
January 19, 2014 - David Gespass
Alabama Freethought's next Lake Hypatia Speaker Series will be Sunday, January 19, 2014, at our Lake Hypatia Advance. Click here for a map to Lake Hypatia.

Threats to Your Civil Liberties in the Internet Age

David Gespass, recipient of the Golden Jurist Award from the Birmingham NAACP for his commitment to civil rights under the law and immediate past president of the National Lawyers Guild, will speak to us about civil liberties in the internet age and the threat of fascism in America.

Named as a top civil rights attorney in the 2013 Birmingham Magazine poll, Mr. Gespass brings us a seasoned perspective on threats to our civil liberties.
Program Schedule
Meet & Greet 11:00
Covered Dish 12:00 (show off your culinary craft)
Program 1:00
December 15, 2013 - Richard Haynes
Alabama Freethought's next Lake Hypatia Speaker Series will be Sunday, December 15 at our Lake Hypatia Advance. Click here for a map to Lake Hypatia.

This month, we feature "Brother Richard" Haynes, coming to us from Atlanta GA. He was raised in a nonreligious home, ran away as a teenager and had a "born again" religious experience. He subsequently became an evangelist, received a degree in Biblical Studies and served as an associate minister to a 12,000-member Atlanta mega-church. In 1993, with their church engulfed in scandal, Richard, with his infant daughter and wife Angela, began their long and arduous journey to rationality and non-theism. Richard is now secularly ordained and has dedicated himself to building non-theist communities and encouraging others to "come out" of the atheist closet. He is President of Atheist Nexus International, the world's largest coalition of non-theists and non-theist communities, the Communications Director for Atheist Alliance of America, and maintains the blog "Brother Richard's Life Without Faith" at Patheos.com. He chronicles this journey for us in a "Hobbittesque" presentation entitled: There and Back Again.

Schedule:

11 am - Meet & Greet
12 noon - Covered Dish
1 pm - Program Meeting
November 17, 2013 - Mark Gooch
Alabama Freethought's next Potluck & Program gathering will be Sunday, November 17th at our Lake Hypatia Advance. Click here for a map to Lake Hypatia.

Our speaker will be Mark Gooch, commercial photographer from Birmingham, Al who has been honored by The National Endowment for the Humanities, The National Endowment for the Arts, and The Alabama State Arts Council. He photographs people for advertising agencies, magazines and design firms throughout the U.S. Gooch works hard to achieve the fresh, informal images for which he has been known for 33 years, since 1980. Mark is a member of The Birmingham Friends Meeting of the Religious Society of Friends also know as Quakers. As one of our country's oldest religions, Quakerism differs from other religions in a number of ways. (Not the least of these is the fact that agnostics are welcome in their meeting.) Mr. Gooch will speak about the origins, tenets and practices of the Society of Friends, as the Quakers call themselves, and entertain your questions. Do come and join the conversation!
Schedule:

11 am - Meet & Greet
12 noon - Covered Dish
1 pm - Program Meeting
October 20, 2013 - Christy Johnson, journalist
Christy Johnson, a journalist for over 7 years and in her first role as an activist is the local organizer of the Birmingham, Ala. chapter of Restore the Fourth. She will speak to us about recent revelations concerning the National Security Agency and how much of our lives are being subjected to surveillance. Are these gross violations of privacy relative to the Fourth Amendment? Should we care? What can we do? Learn why Restore the Fourth believes our Fourth Amendment is being violated and how the privacy of "we the people" should be restored.

Join us for this dynamic topic and contribute to the synergy!
NOTE: THIS IS RACE WEEKEND SO ALLOW EXTRA TIME FOR TRAVEL!!
Schedule:

11 am social hour
12 noon potluck lunch
1 pm program
%250 %America/Chicago, %2013
A chapter of the Freedom From Religion Foundation
Freedom From Religion, Albuquerque (FFR-ABQ) is working to keep state and church separate and to educate the public about the views of non-theists. We are gradually "coming out of the closet," speaking truth to power as non-believers providing a balance to religious influences. We call ourselves "non-theists" or "free-thinkers," which means "a person who forms opinions about religion on the basis of reason, independently of tradition, authority, or established belief."
FFRF members in NM started meeting in 2010 and registered with the state in the spring of 2012 as an educational non-profit. We established a board of directors with five offices – president, vice president Secretary, Treasurer, and past president. We are accepting donations to our billboard fund and for our quarterly Meet and Greet events with speakers and refreshments.
We have had some great activist projects. We meet once each month, and meeting topics so far have included the following:
Obtaining legal support from FFRF for local violations of C/S
Billboard funding and placement (see photos)
Monitoring City and County Commission meetings
Creating various brochures for FFR-ABQ
Ending religious graphics on the cover of the NM Bar Association newsletter
Ending creationism instruction in a public school
Competing with Hobby Lobby Christian Nation ads in the Albuquerque Journal
Constitution Day celebrations and advertisement, Sept. 17
A debate in 2012 on "God is Dead?" with Jim Travis (yes) and Trent Horn (no) – find it on YouTube
A talk on Non-Believer Nation: The Rise of Secular Americans by the author, David Niose
Darwin Day celebrations and advertising around February 12, including "A Comparison of Science and Religion" talk by Ron Herman at the NM Museum of Natural History that sparked controversy
Discussions of Christianity in New Mexico
Gay pride and equal rights tabling at PrideFest 2013
A talk on Born Atheist by the author, Tim Covell
Review of Catholic hospital "missionary" policies regarding women's healthcare
Renewed efforts to pass the Equal Rights Amendment to ensure women's rights
Two talks with musical entertainment by Dan Barker, FFRF co-president, including one with the Albuquerque Atheist Band
Assertiveness workshop, Jerry Gilbert, retired clinical psychologist.
"The Trouble With Christmas," Tom Flynn, Executive Director of The Council for Secular Humanism and Editor of the Free Inquiry magazine.
Production of a YouTube video on church/state separation
Co-sponsored a visit by the "Unholy Trinity Tour" by Matt Dillahunty, Aron Ra, and Seth Andrews in 2014
We are part of the growing movement against the national god obsession! We might be "fallen-away" Catholics or former members of other religions, born atheists or agnostics, self-discovered free-thinkers, or doubting New-Agers. We welcome diversity.
Contact:
Jim Travis
505-907-9926
Ron Herman
505-292-4375
This email address is being protected from spambots. You need JavaScript enabled to view it.
This email address is being protected from spambots. You need JavaScript enabled to view it.
More...
June 16, 2013 - Shawn Young, Christian Agnostic
May 19, 2013 - Lecia Brooks, Outreach Director, Southern Poverty Law Center
April 21, 2013 - "Secular Student Alliance at University of Alabama at Birmingham " with Jon Paolone