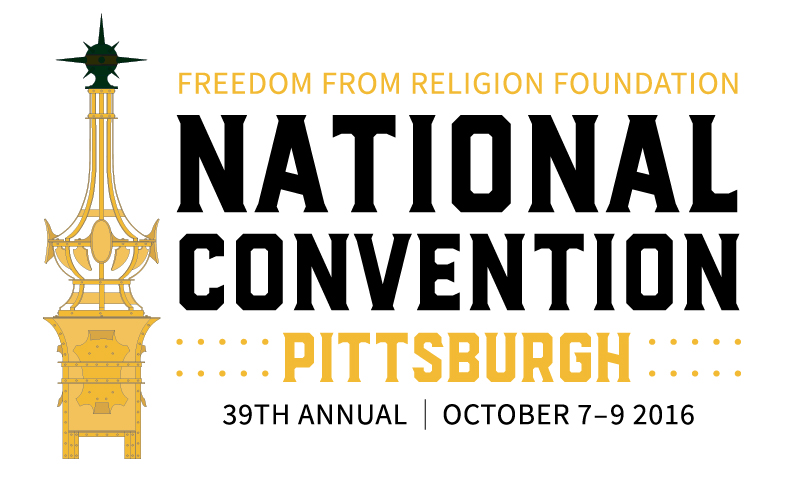 Pre-registration now closed.
If you pre-registered for the tour, FFRF has sent, via USPS, your confirmation, including bus assignment, departure time and tour time. You can also pick up your tour itinerary/ticket 15 minutes before your tour departure time on Friday, October 7, in the Liberty Entrance of the Wyndham. Buses also depart and return there.
After the tour of Fallingwater, there will be a reception from 3-5 p.m. with workshops and complimentary appetizers. Friday dinner is on your own. The formal program begins at 7 p.m. Friday, ending with complimentary dessert and hot beverages. The convention resumes Saturday morning with an optional Non-Prayer Breakfast at 8 a.m. The morning program starts at 9:30 a.m. After a two-hour lunch on your own, the program resumes at 2 p.m. An optional dinner banquet will be followed by evening speaker/entertainment. Annual meetings of the membership and the state representatives are Sunday morning, ending by noon.
Tour buses will depart and drop off at the Liberty entrance.

Photo: Courtesy of the Western Pennsylvania Conservancy.
Friday, prior to the start of the convention, FFRF is hosting a tour of the impressive Frank Lloyd Wright-designed Fallingwater site. The $40 ticket includes admission to Fallingwater and round-trip coach bus transportation. There is also an optional, although highly recommended, box lunch available for $12. (The cafeteria is expected to be too busy to accommodate FFRF on this tight schedule.) The 43-mile route to the captivating Fallingwater is through scenic Pennsylvania countryside during the most beautiful time of the year. Buses depart from Wyndham Grand every 30 minutes beginning 7:50 a.m., with returns beginning 2:10 p.m.
Extra rooms have been set aside at the Wyndham Grand for FFRF members for Thursday night for those interested in going on the tour. FFRF will provide tour times, tickets and other information with mailed convention registration confirmation.
Important Visitor Guidelines
Fallingwater is a fragile environment. To help protect Fallingwater and its collections, all group tour registrants must adhere to these Fallingwater policies:
Only small wallets and handheld cameras are permitted on tour. Please leave all larger backpacks, purses, camera bags/equipment, and other cumbersome items on the bus.
Eating, drinking and chewing gum are prohibited in the house while on tour.
Smoking, including the use of electronic cigarettes, is only permitted in the parking lot. The rest of the Fallingwater site is a smoke-free environment.
Visitors are asked not to touch the woodwork and collections or to sit on or touch the furnishings.
Cell phones and other electronic devices must be turned off while on tour.
Photography is not permitted during one-hour guided house tours. Exterior photography for personal use only is welcome. Complete photography guidelines are available upon request.
Children under 6 years old, including infants and toddlers, are not permitted on house tours.
Fallingwater is a carry-in/carry-out facility. We ask that you take your trash with you when you leave.
Group information is shared with Fallingwater reservation partner, Polymath Park. If you would like to opt out, please contact Visitor Services in writing at This email address is being protected from spambots. You need JavaScript enabled to view it..">

This email address is being protected from spambots. You need JavaScript enabled to view it.

.
Site Challenges
The tour involves considerable walking and there are challenges on site, including 100 steps (not all at once) and uneven gravel paths on a 1/4 mile walk from the Visitor Center to the house. If you have concerns about mobility, vision or hearing challenges, please read the following details.

For more details about getting the most out of your visit, please see the Fallingwater website .

Check back soon for updates! Register today!