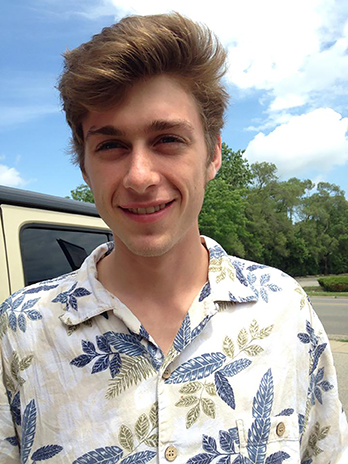 Name: Noah Brunell.
Where and when I was born: New London, N.H., March 16, 1994.
Family: Parents, Deborah Schachter (51) and Thomas Bunnell (58); sister Eliza (18).
Education: Rising junior at Carleton College in Northfield, Minn.
My religious upbringing was: Jewish. I went to a Reform synagogue, attended Hebrew school, had a bar mitzvah, etc., although my Jewish mother and Christian father were always careful to let me come to my own conclusions.
How I came to work as an FFRF intern: The roots of my skepticism reach back to the d'var Torah (lesson of the Torah) which I wrote and then delivered at my bar mitzvah at age 13. Surprisingly well-received given its heretical slant, my talk centered on questioning why a benevolent god would smite Aaron's sons, concluding that even religious doctrine is only meant to offer guiding principles rather than "The Word," and even then, it often has some pretty bad advice.
Thereafter, I clung to Judaism for its cultural comforts, but not for its answers to the metaphysical questions of the universe and the transcendent. For those, I looked to science and increasingly, to literature and poetry. Since I'd developed into an atheist, FFRF seemed like the place to be.
What I do here: I compile bios of famous freethinkers for the Freethought of the Day portion of our website and write summaries of FFRF's legal victories. I help out wherever needed.
What I like best about it: It's great to work for an organization helping to effect important change and to write about those changes actually taking effect.
Something funny that's happened at work: All too often, people call to spew odious and empirically dubious claptrap (did God send religious people to make life a living hell for nonbelievers?). I love that my desk is situated so that I can hear the creative responses the people answering the phones come up with in response to these crank calls: Lisa's "Well, I hope you pray for me!" Katie's recent go-to — shouting, "USA USA USA!" Or one that's been suggested, but hasn't been implemented yet: "Thank you for calling the Christian-Atheist Dating Hotline! What type of atheist are you interested in today?" Cracks me up.
My academic interests are: English literature, religion, politics and German.
My heroes are: Kurt Vonnegut and George Carlin.
These three words sum me up: Introspective, curious, outdoorsy.
Things I like: Postmodern fiction, running, social justice, Woody Allen movies, corny puns.
Things I smite: Men's rights activists, passive aggression, the Religious Right, bigotry.
My loftiest goal: Peace.