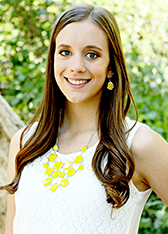 Fallon received $400 from FFRF for her essay.
By Fallon Rowe
I grew up without religion. In Idaho schools, this made me fairly unique, and I struggled throughout my education, walking on eggshells around my many Mormon friends.
In elementary school, a friend asked me if I believed in "God." After a few moments of thought, I replied negatively, explaining the lack of importance of such a word in my life. That friend was quickly transformed into an enemy, presumably because her parents had indoctrinated her to be unfriendly with those who lack religion. I didn't let it bother me, but I'll never forget that encounter.
As I transitioned into high school and attained a higher level of thinking, I began to analyze my own beliefs. I see how religion can corrupt and brainwash people, especially children who are so impressionable. I see smart, caring students turn ugly and rude when they find out I'm "that atheist girl."
I have to be extra confident of my nonbelief in order to hold my own against the zealots I face in my school and community every day. Sometimes I wonder if my peers would discriminate against me less if I were a racist rather than an atheist. It scares me that they think I'm evil or heartless simply because I disagree with religion. I am lucky to have found a few accepting and freethinking friends in high school, but we are among the minority.
At Girl Scout camp when I was younger, I was the only one who absolutely refused to pray before every meal. Although the organization is not religiously affiliated, the counselors tried to force us to pray. In school, I continue to leave out "under God" while reciting the Pledge of Allegiance. I fight for the separation of church and state at every opportunity.
In my advanced placement government class, a peer claimed there would be no peace iuntil Jesus walked the Earth again. No one protests these outbursts besides me, and I always get many negative glares for speaking up for secularism. In AP literature, I steadfastly voice my opinions on nonreligion and the importance of the wall of separation. I stand alone in these classrooms as the lone representative of freethought.
Recently in my community, a student's religious grandparent challenged a book in my school, and it resulted in the removal of the book from the curriculum at every school in the district. Along with over 300 of my peers, I signed a petition to keep the book in the curriculum, but our efforts were in vain.
Despite this, hundreds of copies were distributed for free in my community because of a fundraiser, and it awakened people to the evils of censorship. One of the main reasons the book was challenged was because it was called "anti-Christian." This upset me since my school is public, and religion should have no influence on my education. It intrigues me that some Christians are blatantly against the book, and some have no problem with it and have even rallied behind the anti-censorship efforts.
This helps me see that Christians can't be grouped together entirely as being completely closed-minded or unresponsive to change, just like atheists shouldn't collectively be viewed as radical or dangerous.
I care deeply about separation of church and state, especially in schools, because I don't want other students to have to face similar challenges. I do not need religion or a deity to be a good person. I do not need a holy book to outline my morals, or a priest to tell me women are inferior and ignorance is acceptable. I do not need childish tales from long ago to guide me through life and give me hope.
I need people — good, caring, intelligent people — who act from the heart of humanity and the brain of science. I need logic and freethought to help me escape from the chains of silent atheism and solve the problems we face as human beings.
Fallon Rowe, 17, Meridian, Idaho, will be attending Utah State University to major in environmental geoscience and minor in journalism. Her interests include rock climbing, traveling, mountaineering and writing. She's a member of FFRF and the Secular Student Alliance.