History of Lake Hypatia and the AFA Advance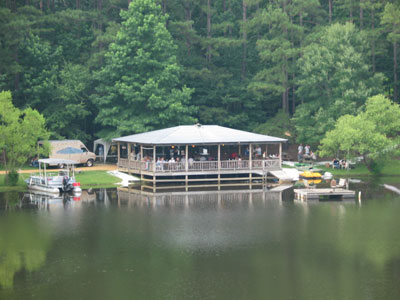 Roger, Pat and Melody Cleveland of Alabama dreamed of a freethought "advance, not retreat," right in the buckle of the bible belt. The Alabama Freethought Association, which Pat and Roger Cleveland founded, and which is the Foundation's largest chapter, has worked invaluably as an umbrella organization of atheists, agnostics and other freethinkers to keep church and state separate in Alabama. The Alabama Freethought Association took the original lawsuit challenging Judge Roy Moore's courtroom Ten Commandments in Gadsden, Ala.
In the 1990s, the Cleveland family deeded land to the national Freedom From Religion Foundation, which raised funds to construct the Lake Hypatia Freethought Hall. An addition, the beautiful Willa E. Whatley Auditorium, was dedicated in 1999. The Clevelands also invited the national Foundation to place its Atheists in Foxholes monument at Lake Hypatia, a peaceful spot to recognize the country's many atheist and agnostic veterans.
Every year, with authentic Southern Hospitality, the Cleveland family generously opens its beautiful, improved grounds and lake to hundreds of freethinkers from all over the country for the annual "Glorious Fourth" Independence Day celebration. Speeches are conducted in the air-conditioned Lake Hypatia Freethought Hall, and outdoor recreation takes place on the Cleveland's rural campgrounds.
Primitive camping is available on the upper and lower campgrounds (local motels a few miles away), swimming in the lake or Cady Creek natural lagoon, fishing, paddle boats, dining at the lakeside Pavilion, great speakers and most of all the experience of making new friends, renewing old friendships and mingling with fellow freethinkers.