Katie Daniel gave these remarks May 6 at the Foundation's "Let's Call the Whole Thing Off" Anti-National Day of Prayer rally at the Wisconsin Capitol.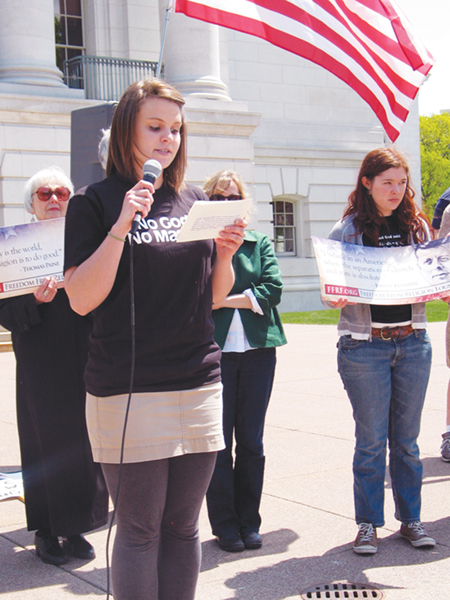 Katie is one Daniel who will never be cast into a den of lions for adhering to religious dogma.

Photo: Ryan Foley, Associated Press

My name is Katie, and I'm the executive assistant and bookkeeper at FFRF. It's great to see all of these proud atheists, agnostics and skeptics on what may be the Last National Day of Prayer ever!
The National Day of Prayer has been an officially recognized day since 35 years before I was born, and I would be relieved to live the rest of my days without practicing government-mandated tarot readings, faith healing, Christian praying and, as much as I love the series, government-mandated Harry Potter-style wizardry.
Judge Crabb said it best in her 7th Circuit decision on the NDOP: "[R]ecognizing the importance of prayer to many people does not mean that the government may enact a statute in support of it, any more than the government may encourage citizens to fast during the month of Ramadan, attend a synagogue, purify themselves in a sweat lodge or practice rune magic."
Many of the self-described Christian callers to FFRF have a hard time understanding that our country was founded on freedom from religious persecution, and that also applies to persecution by Christians against those who don't share their beliefs! Atheists, agnostics and skeptics are being treated as second-class citizens, and I have certainly witnessed and been a victim of this unbecoming, and un-Christianlike, behavior.
Since starting as a student employee at FFRF in 2008, I've taken calls from Christian callers threatening to kill my and my co-workers' families, perform unspeakable acts to our pets and blow up our office. These people are the real terrorists, and they are homegrown on American soil — soil that should support strong roots of freedom, tolerance and independence.
Without the dedication of freethinkers like you, the strong roots of secularism that began growing with the inception of our country could shrivel and die under the weight of Christian dominionism.
On the bright side, my time at FFRF has been filled with lovely, supportive comments from members and First Amendment lovers all over the world. I've been drawing up tax letters and processing donations nonstop for the last couple of weeks since Judge Crabb's decision was handed down. Anyone who says Christianity and charity are inextricably linked has not walked a day in my office slippers!
I think we should all give ourselves a round of applause for this landmark victory and continue working to make sure this decision isn't overturned.