Bell tolls for Texas school violation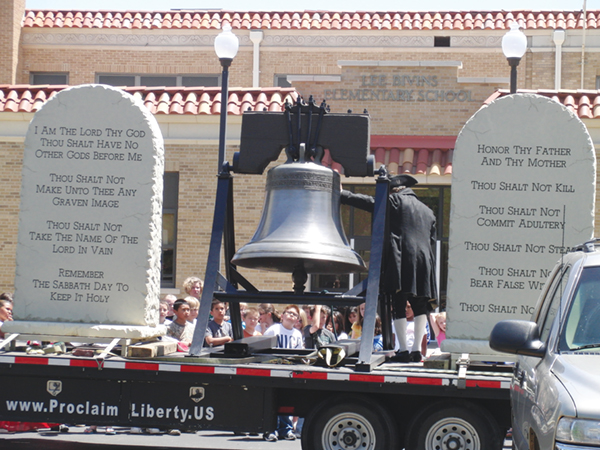 FFRF received a parental complaint about "Belladier" David Hall of Proclaim Liberty bringing his Liberty Bell and Ten Commandments exhibit to Bivins Elementary, a public school in Amarillo, Texas. Parents weren't notified in advance about the program. A school district attorney responded to FFRF's letter of complaint, saying, "Mr. Hall is not scheduled to present to AISD students again." The attorney, Andrea Slater Gulley, prefaced that, however, with, "I disagree with your conclusion that constitutional violations occurred. Nonetheless, the district appreciates being informed that parents found the display and presentation to be offensive, especially since it has not received any other complaints."
The complainant viewed the school's response like this: "So it seems that with AISD, it's not if something is legal or constitutional, it's whether or not they receive complaints. So, if that's the threshold, I will make it my duty to oblige them. And next time, I will start with a letter or meeting with the superintendent. I'll put my name on the line. This has given me confidence, and I owe you my thanks for that."
FFRF stops 'Christians Reaching Every Where'
FFRF responded to several serious issues at Fayetteville County (W. Va.) Schools. The district let the Fayetteville Ministerial Association operate during school hours a group called Christians Reaching Every Where. CREW had special food sales available only to student CREW members and distributed bibles and other religious literature to students.
The school district also coordinated with the ministerial group a field trip chaperoned by school employees and church members and ministers. Permission slips were sent home with all students to attend the event. CREW's mission is "to worship and honor the Lord Jesus Christ."
FFRF Attorney Rebecca Markert addressed the violations in a June 17 letter to the district: "Under the Equal Access Act, supervision and participation by local pastors, who are not affiliated with the school, of a student group is illegal." The letter also pointed out that "Courts uniformly have held the distribution of bibles to students at public schools during instructional time is prohibited."
The letter noted that endorsement of Christianity was apparent when the high school offered pizza and soda for sale during cafeteria hours exclusively to CREW students. Regarding the field trip, Markert wrote: "A public school cannot authorize, organize or otherwise coordinate a year-end activity for a Christian ministry."
The district responded promptly with a letter assuring the following changes to school policy/operations:
"Area ministers shall not oversee nor direct any club meetings. . . . CREW shall not have any direct connection with or oversight by the Fayetteville Ministerial Association. No employees of Fayette County Schools will lead any form of religious activity during CREW meetings. CREW has not been given and will not be given any more or less access to the facilities and services of Fayette County Schools than any other student group.
CREW is not permitted to serve or offer pizza or other food incentives in connection with its meetings where the same would violate either the Equal Access Act or the relevant student nutritional guidelines. No bibles are to be distributed by any organization on the campus of Fayetteville High School."
Calif. board: No graduation prayer
After FFRF helped stop illegal prayer at a June high school graduation in Exeter, Calif., it received a complaint that a middle school in the same district held an unlawful invocation as part of its eighth-grade graduation June 3. The prayer ended with "in Jesus' name." After FFRF objected in a letter to the district about the prayer at Wilson Middle School, a school district attorney responded:
"The Governing Board of the Exeter Union School District discussed the concerns raised in your letter and has decided that no District-sponsored invocations will be a part of the program for any future District graduation ceremonies," wrote Vance Rasmussen.
District officials also discussed the issue and decision to have no further prayer with the Exeter Ministerial Association.
Baccalaureate, choir hit sour Constitutional note
A parent in the Highland School District (Medina, Ohio) alerted FFRF to three concerns at Highland High School: The annual choir event included Christian prayer, the school's top choir performed at a church service and the Sharon Ministerial Association in May organized a Christian baccalaureate service for graduating seniors with school support.
Attorney Rebecca Markert tackled all three issues in a four-page letter to the superintendent. The prayer at last year's choir banquet (illegal prayers have taken place at these events for at least the last three years) ended with "In the name of the Lord, Jesus Christ."
The school's Added Attraction choir performed, as it does annually, at St. Paul Lutheran Church (the choir director's church), and last December the program included all Christian carols. The baccalaureate service was held on school property, and the choir director helped promote it and participated, which "signals the school district's endorsement of the event."
Superintendent Catherine Aukerman replied: "I do believe, in light of the First Amendment and court cases that have interpreted its requirements as to religion and public schools, that offering prayer at the annual choir banquet and having the choir perform as part of a local church's worship services are problematic, and I am taking appropriate steps to alter these practices. I am sensitive to the need to avoid actual or an appearance of school sponsorship and endorsement in this area and am also taking steps to ensure that appropriate distance is maintained." She said she "will continue to discuss appropriate parameters with our choir director to assure compliance with all legal requirements."
FFRF also requested copies of the district's policy on facility use and rental, the application by the Ministerial Association to use the auditorium, the permit or approved application for use of the space and verification of payment for use of the auditorium by the Ministerial Association.
Preaching teacher learns a lesson
A Texas public high school teacher in McKinney was ordered to stop using religious quotes and references in his district e-mail signature line after FFRF complained. At one point the signature said, "We know that our old self was crucified with him, so that our sinful body might be done away with, that we might no longer be in slavery to sin. Romans 6:6." The teacher regularly sent e-mails to students and parents with biblical passages and citations.
FFRF Attorney Rebecca Markert told the district it's "grossly inappropriate" to advance personal religious views this way. The district responded on July 21 that the teacher had been warned verbally and in writing and will not be returning for the 2010-11 school year. The district has also now adopted an e-mail policy restricting all electronic signatures to name, title and contact information.
Florida county board nixes Ten Commandments
The Madison County [Fla.] Board of Commissioners voted 3-2 against a proposal to display a 13,000-pound Ten Commandments monument on June 16, the day after it received a complaint from FFRF. The county
Ministerial Association had offered to erect, with private donations, a permanent religious monument on the courthouse lawn.
FFRF has more than 700 Florida members.
Attorney Rebecca Markert told the commission the monument was unconstitutional and would violate "the freedom of conscience of residents in your community who do not adhere to this religious dogma." She recommended placing it on private property.
Most people spoke in favor of the marker before the commission voted, several saying that all secular law is based on the Commandments. Businessman Kin Johnson said he would place a monument just like it at the
Busy Bee store, according to the Madison Enterprise-Recorder. "If you go up to Burger King now and look at the marker there, it reads 'To the glory of God,' " Johnson said.
Concerns about lawsuits were aired as well as about clutter if other groups wanted markers. Commissioner Roy Ellis, who voted no, said he didn't want the courthouse "looking like a cemetery."
Foundation busts In God We Trust
A June 4 letter from FFRF got a public elementary school in Baldwin, Wis., to remove an In God We Trust poster from a high-traffic cafeteria area.
In a letter to the principal of Greenfield Elementary, attorney Patrick Elliott summarized the history of the motto In God We Trust, explaining that it serves no secular purpose. "For those students and parents who don't believe in a god or have beliefs contrary to a monotheistic faith, an In God We Trust poster in their school is offensive. . . . This message alienates nonbelievers and turns them into outsiders in their community."
Elliott reminded the principal that public schools are prohibited from displaying religious messages and iconography. "Even messages that may be displayed in other public settings might be unconstitutional when displayed in a public elementary school because young children are impressionable and their attendance at school is required."
The parent complainant reported two weeks later that the poster was gone.
FFRF grounds SonQuest flier at school
Drum Intermediate School (University Place, Wash.) sent fliers home with students in June that advertised summer camp Aug. 2-6 at Mount Cross Evangelical Lutheran Church. It said registration forms were available at the church.
FFRF Attorney Rebecca Markert wrote the school June 18 to say that without a proper disclaimer disassociating the school district from the religious event, "students and parents are apt to believe that the school is endorsing SonQuest Rainforest Camp and its religious message."
But even with a disclaimer, staff still had to distribute religious literature, which "sends a divisive message of community exclusion of those who hold minority religious views or who choose not to believe." To avoid this divisiveness, Markert advised the district to amend its take-home flier policy to restrict third parties and allow only school-sponsored events and groups to participate.
Terry Pullen, deputy superintendent, wrote back June 29 to apologize for what he called his mistake in not checking for the appropriate disclaimer. "Indeed, it does appear that we, as a district were endorsing this flier and event.
"We are in the process of reviewing the entire policy and procedures. Your letter has assisted in pushing this effort forward," Pullen wrote. "I can assure you that we will take the necessary steps that will stop potential entanglement between religion and our school district."