---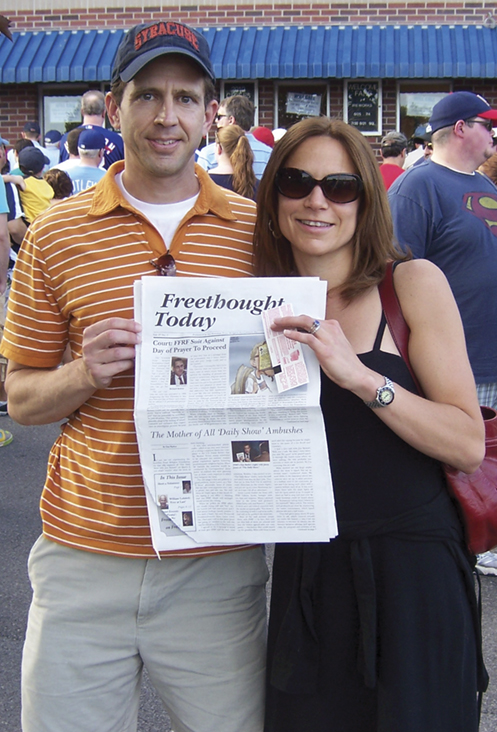 It's illegal to give someone a discount or free service because of the color of their skin or their religion or nationality. That violates the federal Civil Rights Act and, in a case involving the Syracuse Chiefs baseball team, New York state law.
A baseball-loving FFRF member who's up on the law alerted the Foundation that last Aug. 31, the team gave a free general admission ticket to each person presenting "a program from your place of worship" on Church Bulletin Night. No church bulletin, pay full price.
Rebecca Markert, staff attorney, wrote a letter of complaint to the Triple-A International League team, affiliated with the Washington Nationals. The 1965 law says, "All persons shall be entitled to the full and equal enjoyment of the goods, services, facilities, privileges, advantages, and accommodations of any place of public accommodation . . . without discrimination on the ground of race, color, religion, or national origin."
Vice President Anthony "Tex" Simone wrote back [he could have used a proofreader] to say the team "never refused anyone on admissions on the ground of race, color religion or origin."People do not belong to all the companys or associated with all the people that promote the nights, but still obtain the procedure and tickets to be admitted with no difficult," Simone wrote.
Markert wrote back to say he had missed the point. "While it may be true that your ball club has not denied anyone admission to the games, the issue is that you are providing a free ticket to some — not all — based wholly on religious preference or practice. This is illegal."
Simone replied, still sans proofreader: "We do not band anyone from a game for any living purpose. If they do not belong to a promotion, they still attend the games."
Next, the Foundation wrote Onondaga County and state Division of Human Rights officials. A county attorney discussed alternatives to Church Bulletin Night with the team's lawyer. The club's board of directors then voted to drop the "Church," change the name to Bulletin Night and trade free admission for any kind of bulletin, according to a Nov. 18 letter from the county.
The club has already reneged on the name, listed snidely and repeatedly on the current schedule as "The Promotion Formerly Known as Church Bulletin Night." It does now offer equal treatment to nonbelievers: "Present a program from your place of worship OR a civic organization . . ."
Now at every Monday home game, there's a box to put your "program" in to get a free ticket. And yes, a Freethought Today is legal tender for a ticket, said Ross Rubenstein, a Syracuse University associate professor of public administration.
"They had a small table set up outside the stadium where people could trade their bulletins for tickets. The box said 'Church Bulletins = tickets.' We handed them our Freethought Today, though, and they gave us the tickets, no questions asked. We had to leave them our copy (I think they want to make sure the number of bulletins matches the number of tickets given out), so if they go through the bulletins later they'll know we were there!
"Thanks again for all your work on this," Rubenstein said. "We've told so many people the story about FFRF and Church Bulletin Night. I hope it generates some new memberships."
The Foundation is now following up with the club on special nights it's advertising for churches. May 8 was Most Holy Rosary Day, when Catholic parishioners got $3 off on an $11 ticket, according to the Web site. June 22 was United Methodist Night, with tickets "available from area Methodist churches," although no price was listed.