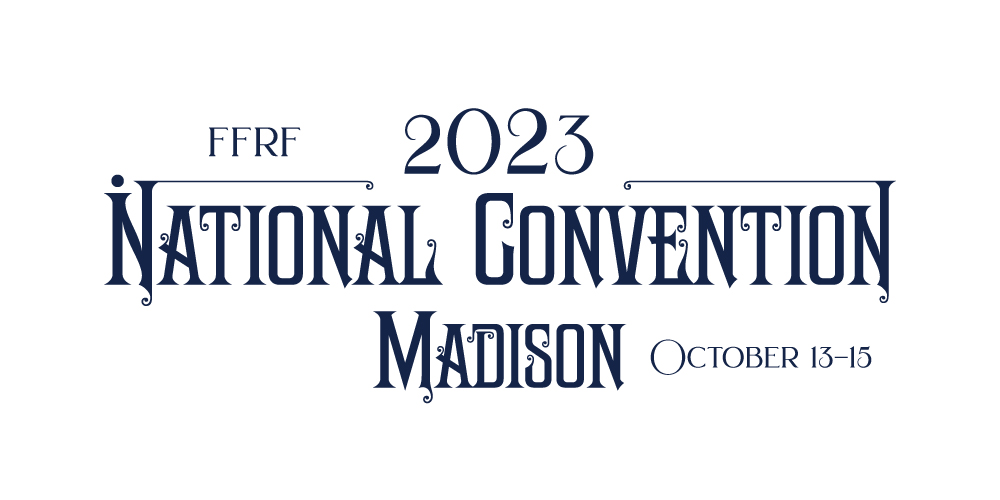 For the four optional group meals, vegetarian, vegan and gluten-free options are available when you register. FFRF does not profit from group meals but simply passes on costs, including 5.5% sales tax and 22% service charge.
Note that the several complimentary receptions offered, which are listed below, include some vegetarian options, but may not cater to everyone with strict dietary restrictions, so please plan ahead.
Thursday, October 12
Complimentary appetizers, including vegetarian and vegan, Champagne Mimosas, hot beverages will be served from 4-6 p.m during an open house at FFRF's office preceding the convention. You must "RSVP" on the registration form.
Friday, October 13
Complimentary Continental Breakfast will precede the opening program and be available in the registration area from 8-9 a.m., including coffee, tea, and orange juice, pastries, muffins, sweet scones, and spinach and fontina frittatas. Those with dietary restrictions may need to make their own plans.
Friday lunch will be 'on your own.'
Optional Friday Dinner Buffet - $35
Includes coffee, tea, and milk, Wisconsin Waldorf Salad, Home-Style Potato Salad, Fresh Vegetable and Relish Tray VG, Beer Boiled Johnsonville® Bratwurst (contains gluten) with Wisconsin Sauerkraut and Chopped
Fresh Onion, Grilled Boneless Chicken Breast, Black Bean Burgers VG, Fresh Sliced Tomato and Crisp Lettuce, Wisconsin Vegetarian Baked Beans VG, Condiments and Buns (contains gluten).
Complimentary Dessert Reception. Cake and hot beverages will be served at the conclusion of Friday's events.
Saturday, October 14
Optional Non-Prayer Breakfast - $25
Includes coffee, tea, and orange juice, Wisconsin Cheese & Chive Scrambled Eggs, Applewood Smoked Bacon or Sausage Links (or choice of broiled tomato for vegetarians), House Seasoned Quartered Baby Red Potatoes, Fresh Baked Petite Cinnamon Streusel Coffeecake Muffins (contains gluten).
Optional Saturday Lunch - $25
Two Chicken Enchiladas, Refried Beans, Fiesta Corn, and Spanish Rice, vegetarian/vegan/gluten-free options.
Optional Saturday Night Dinner - $50
Includes Salad, Choice of Entree, Bakery Fresh Hard Rolls & Butter,
Rising Shores® Organic Fair Trade Coffee, Tea and Milk. Dessert.
House Salad: Hearts of Romaine & Baby Greens, Cucumber & Roma Tomato Slices, Shredded Carrots, Purple Onion, Wisconsin Parmesan, Home-Style Croutons, House Champagne-Mustard Vinaigrette. Salads would be made without cheese/croutons as needed for vegan/GF guests.
Choice of:
Wisconsin Cranberry Chicken: Baked Boneless Chicken Breast Filled with Dried Wisconsin Cranberries & Herbs, Vermouth Sauce, Garden Rice Pilaf (contains nuts), Side of Roasted Seasonal Vegetables. (GF)
Portobello Wellington: Puff Pastry, Fresh Portobello Mushroom, Herbs, Shallots, Risotto,Grilled Tomato, Side of Roasted Seasonal Vegetables. (VEG)
or
Champagne Tilapia: Broiled Tilapia Fillet, Champagne Mushroom Sauce, Herbed Yukon Gold Potato Wedges, Lemon Garnish, Side of Roasted Seasonal Vegetables. (GF)
Dessert:
Plated Dessert Trio - Strawberry Pistachio Tart, Flourless Chocolate Diamond Cake G and White Chocolate Passionfruit Mousse Cup G on a Crème Anglaise and Raspberry Coulis Painted Plate
Sunday, October 15
For those attending the annual membership meeting (must be current FFRF member), hot beverages, juice and some pastries will be served while they last before the 9 a.m. meeting begins.