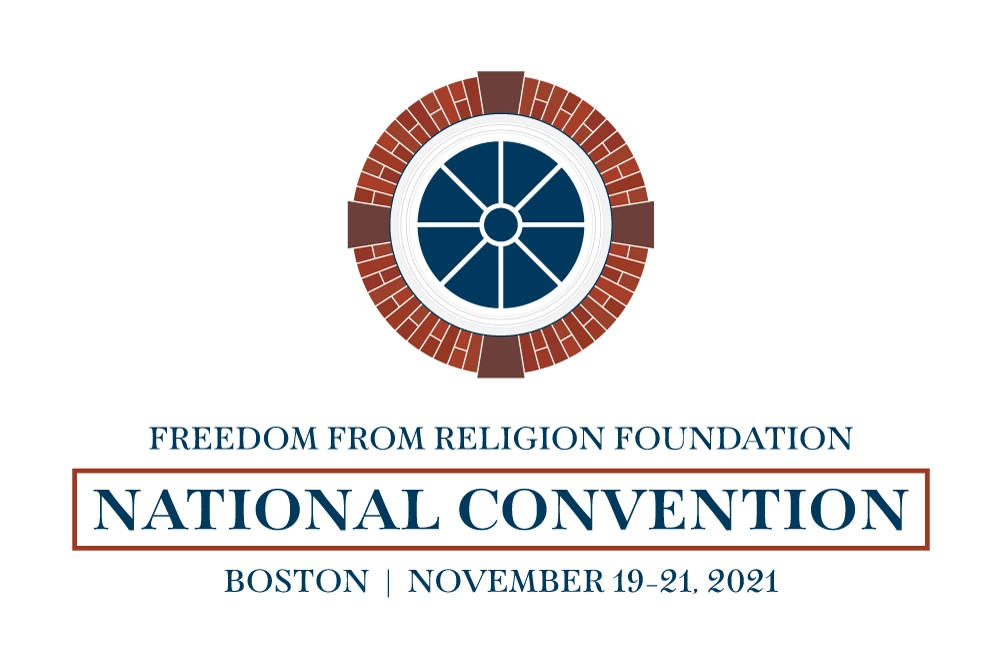 November 19-21, 2021
Boston Park Plaza Hotel
50 Park Plaza
Boston, Massachusetts, 02116
617-426-2000
MAKING HOTEL RESERVATIONS
The convention hotel is the Boston Park Plaza, 50 Park Plaza at Arlington St., Boston. The convention rate is $189 single, double, triple or quad. Suites are $389 and up. Attendees can either register online or call the Central Reservations Office (617-379-7129). Please ask for "Freedom From Religion Annual Convention." The hotel will discount self-parking to $30 per day at Motor Mart Garage.
The cut-off date for reserving rooms is 5 p.m. Eastern on Oct. 18, 2021. FFRF urges you to plan ahead and reserve early to avoid disappointment.
Note: The Boston Park Plaza has waived its $25 per night Destination Fee for FFRF guests who make a reservation directly with the hotel (i.e., not through third party travel sites) at the group rate using the online group link or via the phone. Because it is a "mandatory fee" it is listed on the hotel's automated confirmation emails, but it will be waived on your actual bill.

Boston Park Plaza Hotel Facts
• Check-In Time: 3 PM
• Check-Out Time: Noon
The Boston Park Plaza opened in 1927 as "The Statler Hotel. All but two US Presidents have stayed there.
Transportation to and from
GO Boston Shuttle is available for an additional fee. Fare-based town car transportation can be arranged through our Concierge by calling 617.654.1912.
Alternate subway and taxi options are also available from the airport to downtown Boston.
Taxis: Routinely cost $20-$45 from the airport to the hotel +10%-15% tip
Subway from airport to Boston Park Plaza: Take the Blue Line from the airport to the Government Center stop, then take the Green Line to the Arlington stop, which is located one block from the hotel. The cost is less than $3.
Check out this informational video if you plan to take the subway.
Bus transportation is also a block from the hotel.
Hotel Dining Options
Off the Common
• Breakfast, lunch, and dinner options. New England focused cuisine
• Breakfast: 7AM to 11AM | Lunch: 12PM to 1:30PM
• Dinner: 5PM to 10PM
• Bar Service: 5PM to 11 PM Sunday to Thursday
• 4:00PM to 12:30AM Friday and Saturday
Trega Italiano
• Dinner, cocktail hour. Italian
• Sunday-Thursday: 4PM-10PM
• Friday-Saturday: 4PM-11PM
M.J. O'Connor's
• Dinner and late-night, classic pub food
• Monday – Wednesday: 12pm – 8pm
• Thursday: 12pm – 12am, kitchen until 10pm
• Friday: 12pm – 2am, kitchen until 10pm
• Saturday: 4pm – 2am, kitchen until 10pm
• Sunday: CLOSED

Starbucks
• 5:30 a.m. – 5:30 p.m., Monday – Friday
• 6:30 a.m. – 5:30 p.m. Saturday – Sunday
Fed Ex Business Center
The FedEx Business Center is available 24-hours a day featuring personal computers, laptop connection, printing, faxing and wireless Internet service. Located on the Mezzanine level near FFRF meeting rooms.
Parking
Self-Parking Garage: Motor Mart, 201 Stuart St., 24-hour, $40 (no in-out privileges)
Valet Parking, $58/night with in-out privileges. Available at 34 Columbus Ave.
Sustainability
The hotel features a green roof, composts biodegradable organic food waste and kitchen oils, uses reusable serving utensils, napkins and tablecloths, and employs a water-reuse system that allows water to be cleaned and used three times before being disposed.
Fitness Club
Guests receive access to Lynx Fitness, an expansive health club with the latest in cardio and strength training equipment. Call (857)990-3785 to book an appointment or for Boston's first Topgolf Swing Suite for golf training and entertainment.
• M-F: 6AM-9PM
• Sa-Su: 7AM-6PM
Pet Friendly
Dogs are allowed (2 per room maximum) with an additional $75 cleaning fee. Front desk must be informed and fill out a pet waiver. Pets may not be left alone in the guest room at any time.
Wi-Fi
Available for a daily fee in guest rooms and meeting rooms.
Things to do during free time
-Flanked with designer boutiques and art galleries, the area surrounding Boston Park Plaza is full of wealth and charm.
• Boston Public Library
• Copley Place Mall
• Skywalk Observatory
• Located within the Mary Baker Eddy Library, the Mapparium
• Short walk to Boston Common, Boston Public Garden, Beacon Hill, Chinatown and more
• Within 2 blocks of Old Town Trolley Tours stop. Purchase tickets at concierge desk (prices vary depending on your preferences). Hop on/hop off to visit Boston Tea Party Museum, Seaport District, Feneuil Hall Marketplace/New England Aquarium, and much more.