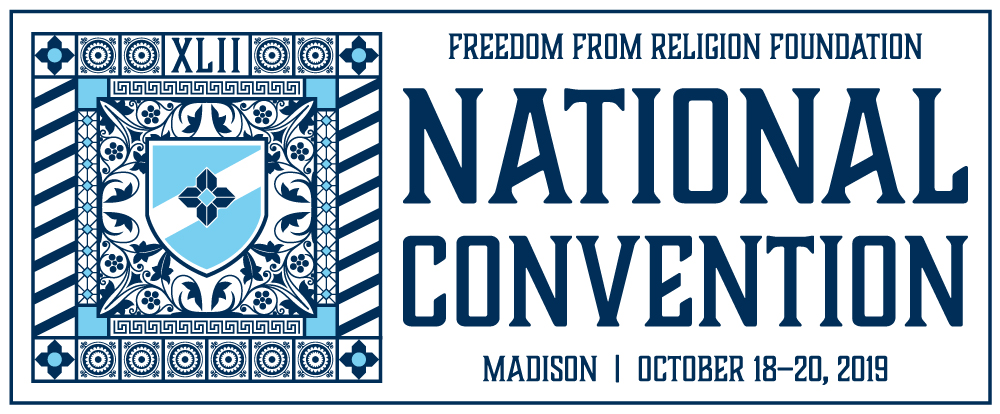 Schedule - 42nd Annual Convention
The pre-convention open house is Friday morning, Oct. 18 at Freethought Hall, FFRF's national office. The official starting time of the convention, at the convention center (1 John Nolen Drive) is 1 p.m., Friday, Oct. 18, continuing through Saturday night. FFRF's membership and state representative meetings take place Sunday morning, ending by noon. The schedule includes irreverent music, FFRF book and merch sales tables and book signings, complimentary ice cream and beverages on Friday afternoon and complimentary Friday night dessert reception. Plus, there is the always-popular drawing for "clean" (pre-"In God We Trust") currency on Saturday night.
The convention registration deadline is Oct. 7, 2019. Please register prior to that date.
Note: Schedule is subject to change.
FRIDAY, OCTOBER 18
Morning Open House
Pre-convention event
9:30 -11:30 AM —Open House
Freethought Hall in Downtown Madison
(Complimentary, but reservations required!)
Early registration opens
Pastries, juice, hot beverages, Champagne, OJ, Mimosas
Afternoon Formal Opening
Monona Terrace Community and Convention Center
Monona Terrace, 1 John Nolen Dr.
Madison Ballroom
Noon Registration re-opens continues throughout convention
Sales tables open in the Madison Ballroom
1:00 PM Short Welcome
Speaker to be announced
1:30 PM — Henry H. Zumach Freedom From Religious Fundamentalism Award
Rachel Laser accepts on behalf of Americans United, "Rebuilding The Wall: Creating a Movement for Separating Religion and Government"
2:00 PM — A Conversation with Sarah Vowell
With Dan Barker, followed by Q&A
3:00 PM — Break Refreshments (lobby)
Book Signing for Sarah Vowell in ballroom concurrent
3:30 PM — "Godless Citizens in a Godly Republic: Atheists in American Public Life"
Authors R. Laurence Moore & Isaac Kramnick
Book signing at 5 p.m.
4:15 PM — Forward Award, Nancy Northup, Center for Reproductive Rights
5:00 PM — Dinner Break (Buffet in Grand Terrace for those with tickets)
Book signing for Moore & Kramnick concurrent
Evening Program
Madison Ballroom
7:00 PM — Evening Welcome, Music
FFRF Co-Presidents Dan Barker & Annie Laurie Gaylor
Year in Review
7:30 PM — "Nothing Fails Like Prayer Award"
Hemant Mehta
"Is Atheism Still Taboo in Politics?"
Hemant Mehta
Book signing at evening conclusion
8:00 PM — "The Founding Myth: Why Christian Nationalism Is Un-American"
Andrew Seidel
Book signing at evening conclusion
8:30 PM — God Gets His Annual Job Performance Review
Mrs. Betty Bowers, America's Best Christian™ & Andrew Bradley
Complimentary gourmet cupcakes and hot beverages - Grand Terrace
Book signing for Hemant Mehta and Andrew Seidel in ballroom concurrent
10:15 PM — Film: "Holy Hierarchy: The Religious Roots of Racism in America"
To be repeated at 12:15 p.m. Saturday
SATURDAY, OCTOBER 19
All Saturday events held in Madison Ballroom, unless otherwise noted.
8:00 AM — Nonprayer Breakfast (optional for ticket holders) - Exhibit Hall A
9:00 AM — Ballroom, sales tables re-open
Madison Ballroom
9:30 AM — Welcome, Lisa Strand
Music, Dan Barker
9:40 AM — Film Preview, Jeremiah Camara,
Director, "Holy Hierarchy: The Religious Roots of Racism in America"
10:00 AM — Award-winning High School Essayists
Aline Pham, Jacob McGee, Shiv Shah
10:30 AM — "The Family"
Jeff Sharlet
11:00 AM — Battle of Church & State: Legal Accomplishments
FFRF Legal Staff & Mark Dann, FFRF lobbyist
12:00 PM — Break
Book signing for Jeff Sharlet

Noon - 2:00 PM — Lunch Break Optional Grab & Go Lunch
12:15 - 12:45 PM — Film Screening
"Holy Hierarchy: The Religious Roots of Racism in America"
2:00 PM — Freethought Heroine Award
Mandisa Thomas on Because it is Needed: The Focus on People of Color in the Movement
2:30 PM — Avijit Roy Courage Award
Avinash Patil, on behalf of Andhashraddha Nirmoolan Samiti organization
3:00 PM — Emperor Has No Clothes Award
Anthony B. Pinn
3:30 PM — Break
Book signing for Anthony Pinn
4:00 PM — TBA
6:30 PM — Saturday Night Dinner (Ticketed) - Exhibit Hall A
Evening program in Madison Ballroom
8:00 PM — "Clean Money Drawing"
8:30 PM — An Evening with Trae Crowder, "Liberal Redneck"
SUNDAY, OCTOBER 20
Annual Membership Meeting
Hall of Ideas FG
8:30 AM — Complimentary pastries and hot beverages
9:00 AM — Annual Membership Meeting
Open to current FFRF members
Annual State Representatives Meeting
Adjourn by Noon