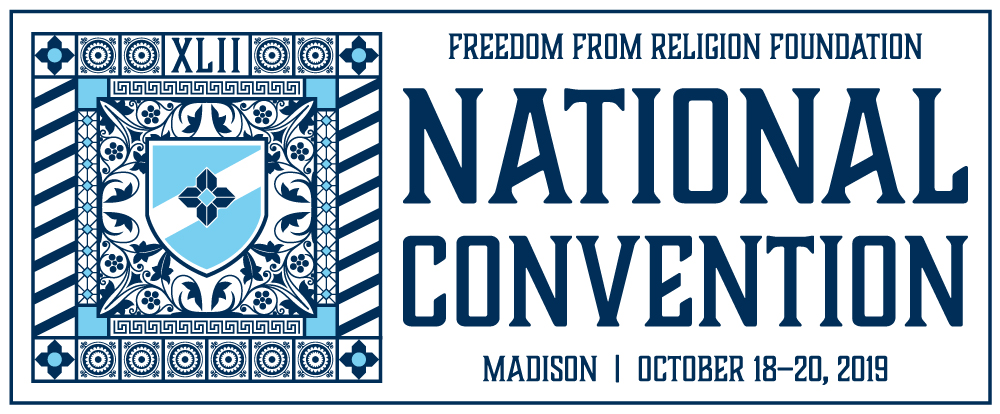 Convention Receptions and Menus
The convention registration deadline is Oct. 7, 2019. Please register prior to that date.
Complimentary receptions include light brunch fare at the Friday morning Freethought Hall Open House, complimentary ice cream and hot beverages Friday afternoon after the start of the convention and a complimentary dessert reception with cupcakes and hot beverages at the conclusion of Friday night. Breakfast pastries, hot coffee and tea will be served at the start of the Sunday morning membership meeting.
Optional meals:
All meals have veggie/vegan/gluten free substitute available.
Friday Welcome Dinner Party, $35.
Bucky's Tailgate Buffet includes Wisconsin Waldorf salad, home-style potato salad, fresh vegetable and relish tray, beer boiled Johnsonville Bratwurst with sauerkraut and chopped fresh onion, grilled boneless chicken breast, black bean burgers, fresh sliced tomato and lettuce, vegetarian baked beans, buns, condiments, and coffee, tea and milk.
Saturday Nonprayer Breakfast, $20.
Cheese & chive scrambled eggs, apple smoked bacon, rosemary wedge potatoes, ketchup, chef's assortment petite muffins, chilled juice, coffee, tea and milk.
Saturday Grab 'n Go Lunch, $25.
Packaged individual lunch containing deli-sliced turkey on fresh Kaiser roll, fresh sliced tomato and lettuce with condiments, piece of whole fruit, home baked cookie and chips. Vegetarian option is marinated grilled tempeh sandwich. Kaiser is replaced with gluten-free roll upon request. Served with assorted Pepsi-brand sodas.
(There is a 2-hour Saturday lunch break. Convention-goers may wish to explore Madison and its many restaurants on the Capitol Square and State Street. Restaurant guides will be handed out at the conference.)
Saturday Dinner, $50.
Roasted airline chicken breast with truffle butter glaze, potatoes, fresh seasonal vegetable blend, house salad, bakery-fresh hard rolls & butter, plated dessert trio (strawberry pistacio tart, flourless chocolate diamond cake, and white chocolate passionfruit mousee cup), coffee, tea and milk. Cash bar.
Note: Meals are not a fundraiser for FFRF, but your participation enables FFRF to meet significant hotel room bloc and meal minimums, and provides a chance to socialize. FFRF merely passes on meal costs, including significant tax and serving fees.