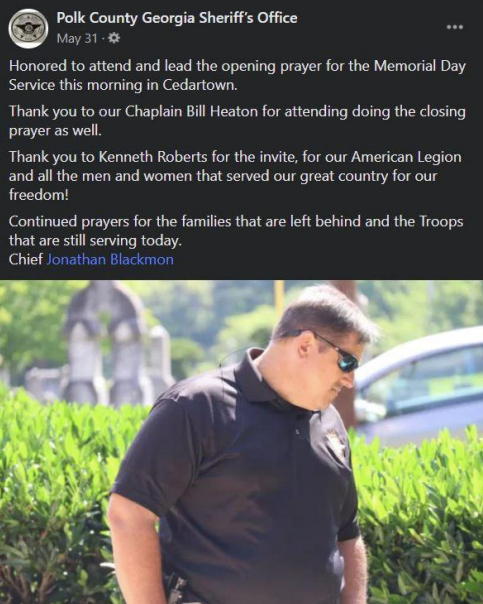 The Freedom From Religion Foundation has made certain that a Georgia deputy ceases to behave in an unlawful manner.
Chief Deputy Jonathan Blackmon had been using his position within the Polk County Sheriff's Office to promote and endorse his personal religious beliefs, and the Polk County Sheriff's Office was regularly posting Blackmon's religious messages on its official Facebook page. On May 31, for instance, Blackmon posted a message on the official sheriff's office Facebook page explaining that he led prayer to open a Memorial Day service. (Image above.)
"The Supreme Court has long held that the Establishment Clause 'mandates government neutrality between religion and religion, and between religion and nonreligion,'" FFRF Staff Attorney Chris Line wrote to Polk County Sheriff Johnny Moats. "The Sheriff's Office's Facebook posts convey a message to non-Christians that they are not 'favored members of the community,'" to again quote the Supreme Court.
The Supreme Court has described the power of social media sites as "the principal sources for knowing current events, checking ads for employment, speaking and listening in the modern public square, and otherwise exploring the vast realms of human thought and knowledge." Government entities, FFRF emphasized, must be particularly diligent not to entangle religious messages with official government pronouncements made in this "modern public square."
The Polk County Sheriff's Office found FFRF's message persuasive.
"I was advised by our administration to inform you that all the Facebook posts would be removed and that there will not be any future posts placed on the sheriff's office official page," says a recent email from an employee. "Please let me know if you need anything else."
FFRF is more than happy to place a sheriff's office on the right legal path.
"Governmental media accounts are often misused to preach and proselytize," says FFRF Co-President Annie Laurie Gaylor. "Our constitutional duty is to stop this from occurring."
The Freedom From Religion Foundation is a national nonprofit organization with nearly 36,000 members and several chapters across the country, including more than 500 members and a local chapter in Georgia. Our purposes are to protect the constitutional principle of separation between state and church, and to educate the public on matters relating to nontheism.