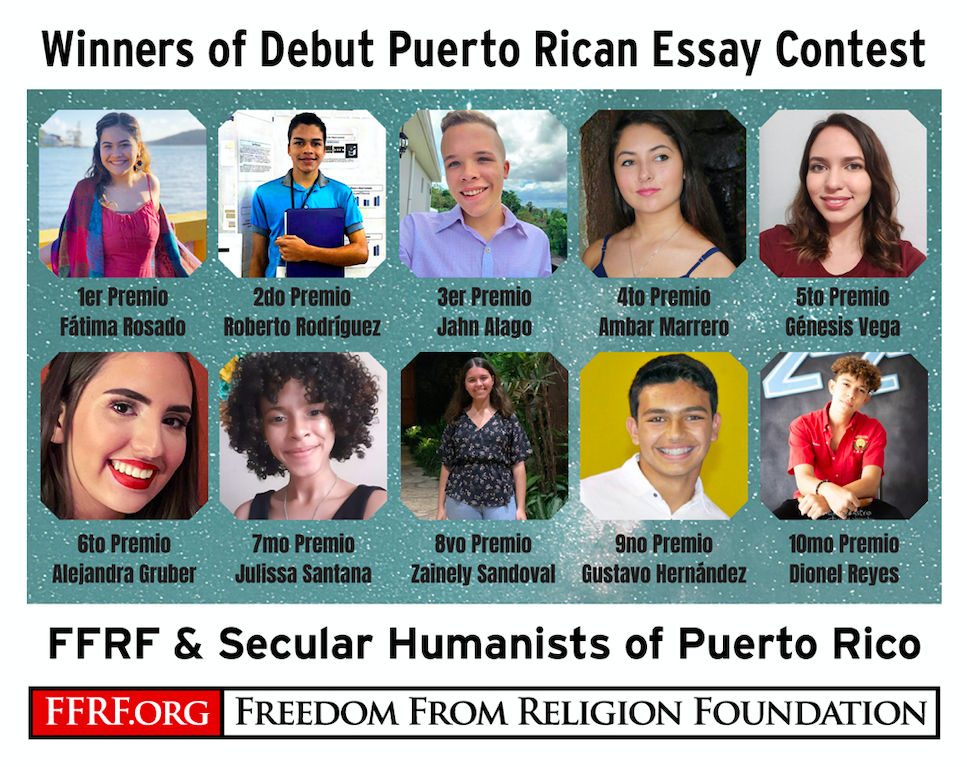 The Freedom From Religion Foundation is delighted to announce that it is awarding, in partnership with Humanistas Seculares De Puerto Rico (Humanists of Puerto Rico), more than $16,000 in cash scholarships to Puerto Rican students, including 10 major winners and four honorable mentions.

Students were asked to write about the following topic: "The importance of separation of church and state in Puerto Rican society."

The Humanists of Puerto Rico publicized and judged the 150 essays received, and FFRF provided the prize money. FFRF had contacted the Humanists seeking the partnership and suggested that the contest be in Spanish. FFRF currently sponsors five other essay competitions that are open to Puerto Rican students, but are in English.

The major winners are:
Fátima Isabel Rosado Figueroa (Prize: $3,500)
Roberto Orlando Rodríguez García ($3,000)
Jahn Michael Alago Velázquez ($2,500)
Ambar Marrero Pérez ($2,000)
Génesis Vega Pérez ($1,500)
Alejandra Gruber Acevedo ($1,000)
Julissa Esther Santana García ($750)
Zainely A. Sandoval Martínez ($500)
Gustavo Daniel Hernández Luciano ($400)
Lionel Reyes Ramírez ($300)
Honorable mention of $200 each will be given to:
Yanelie Díaz Román
Aviel Ramírez Fossé
Evan Flores Rosado
Karina Negrón Tudó
"I personally had the chance to call each one of the 10 major prize winners," reports Gerardo M. Rivera Chaparro, secretary of the Humanists. "The happiness I heard from them and their families was overwhelming."

"¡Felicitaciones!" says Dan Barker, FFRF co-president. Adds FFRF Co-President Annie Laurie Gaylor: "We're delighted to be partnering with the Humanists of Puerto Rico, particularly at a time when so many public schools on the island were shuttered after Hurricane Maria, and when students are in need of educational support. We hope this will become an annual scholarship."

FFRF recently went to court with the humanist group and a local family, successfully halting the unconstitutional imposition of mandatory 50-minute biweekly prayers upon students at a primary school in Toa Baja as part of the school day.

The Humanists of Puerto Rico is in the process of disbursing the scholarships.