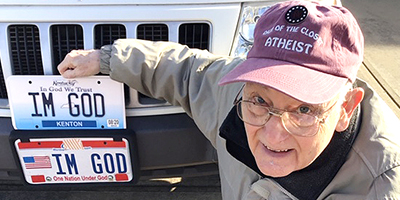 A federal judge has ordered the state of Kentucky to pay more than $150,000 to the groups representing a freethinker denied a license plate saying "IM GOD."
The court ruled today, Feb. 10, that the state has to pay for work performed by Freedom From Religion Foundation and ACLU-Kentucky attorneys for the time spent pursuing Ben Hart's case. The court had cleared the way last November for Hart, backed by the two organizations, to obtain a personalized license plate reading "IM GOD," finding that the Transportation Cabinet's denial of that plate violated the First Amendment.
In November 2016, Hart filed a lawsuit after Kentucky Division of Motor Vehicle officials called his "IM GOD" license plate message "obscene or vulgar." Later, the state said the plate was rejected because it was "not in good taste." The lawsuit, filed on Hart's behalf by FFRF and ACLU of Kentucky, challenged the Transportation Cabinet's denial of his plate based on statutory viewpoint restrictions that communicate religious or anti-religious messages. Kentucky had approved a variety of personalized religious plates.
"The Commonwealth [of Kentucky] went too far," the U.S. District Court for the Eastern Court of Kentucky ruled in favor of Hart three years later. "To allow such plates as 'IM4GOD' and 'LUVGOD' but reject 'IM GOD' belies viewpoint neutrality," the court stated.
Hart received his plate (seen in the picture) just a few weeks ago. FFRF hails the final decision — and the fact that Hart can finally express himself through his license plate.
"Groups such as ours have to put in a lot of work to ensure the constitutional rights of ordinary folks," says FFRF Co-President Annie Laurie Gaylor. "We truly appreciate that the court recognizes this."
FFRF and ACLU of Kentucky member Ben Hart is a Postal Service retiree and married to his middle school sweetheart. Although raised in a religious family, he began to question religion as a child and now identifies as an atheist. Listen to a radio show interview with him.
ACLU of Kentucky Attorneys Corey Shapiro and Heather Gatnarek represented Hart alongside Rebecca Markert, Patrick Elliott and Colin McNamara of the Freedom From Religion Foundation.
The Freedom From Religion Foundation is a national state/church organization with more than 30,000 nonreligious members and several chapters all over the country, including hundreds of members and a chapter in Kentucky.
The American Civil Liberties Union (ACLU) of Kentucky is freedom's watchdog, working daily in the courts, legislatures and communities to defend individual rights and personal freedoms.