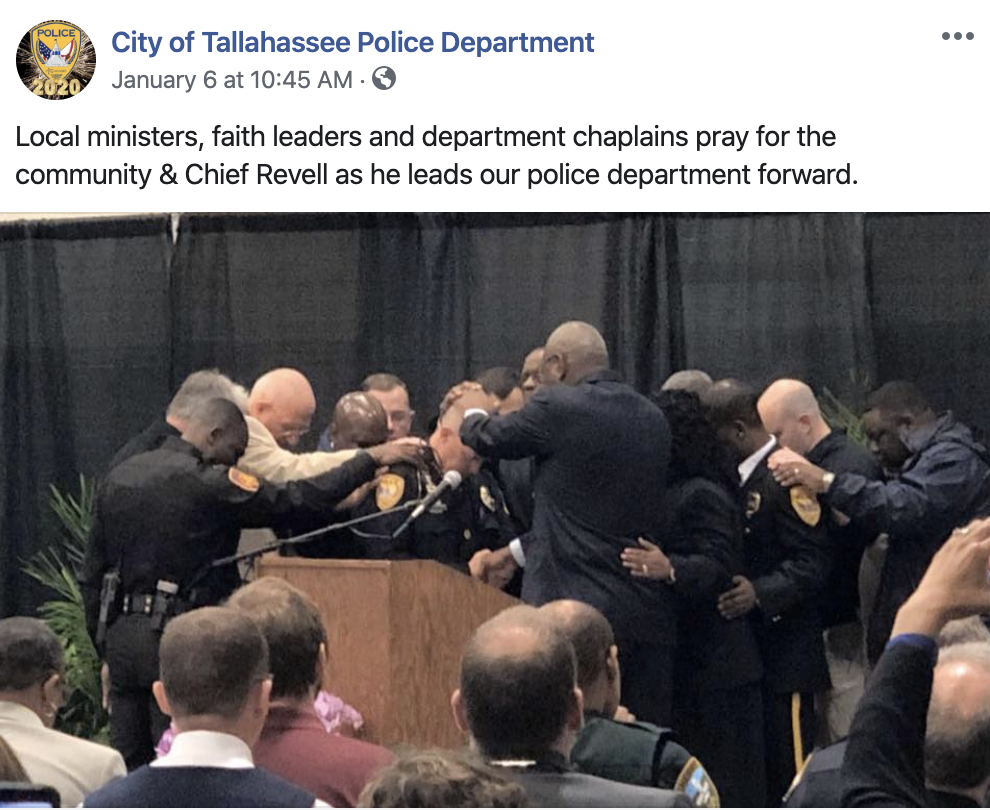 The highly religious recent swearing-in of the Tallahassee police chief is unconstitutional, asserts the Freedom From Religion Foundation.
Chief Lawrence Revell's swearing-in ceremony on Jan. 6 was rife with religion, a Tallahassee resident conveyed to FFRF. Revell reportedly thanked "my Lord and Savior Jesus Christ" and invited several clergy members to "lay hands" and pray over him. This was promoted on the Tallahassee Police Department's official Facebook page. The ceremony began and ended with prayer led by clergy members.
Including religious rituals in official government ceremonies and calling upon citizens to pray is coercive and beyond the authority of any government, let alone a law-enforcement arm of the government, FFRF points out. Citizens should not be made to feel offended, excluded or like political outsiders because the police department they support with their taxes endorses religion and imposes religious ritual on them.
"The Supreme Court has said that 'the preservation and transmission of religious beliefs and worship is a responsibility and a choice committed to the private sphere,'" FFRF Staff Attorney Chris Line writes to Revell. "By promoting your personal religious beliefs and imposing prayer on members of the public, you, as police chief, have violated these constitutional limits on government religious endorsement."
As police chief, Revell is charged with great responsibility and has been given significant trust by citizens in his community, including those citizens who do not share his religious beliefs. Furthermore, FFRF emphasizes, it is important to note that the U.S. Supreme Court's decision in Town of Greece v. Galloway, permitting sectarian government prayers in certain circumstances, does not apply to law enforcement ceremonies, because police departments are not deliberative legislative bodies.
"Such a public official display of religion transgresses constitutional boundaries," says FFRF Co-President Annie Laurie Gaylor. "Police chiefs, due to all their power, have a special obligation to be representative of all citizens."
FFRF is asking Revell to ensure that future Tallahassee Police Department events are devoid of religious overtones and to confirm that from now on he won't use his position as police chief to promote his personal religious beliefs.
The Freedom From Religion Foundation is a national nonprofit organization with more than 30,000 members and several chapters across the country, including over 1,500 members and a local chapter in Florida. Its purposes are to protect the constitutional principle of separation between state and church, and to educate the public on matters relating to nontheism.