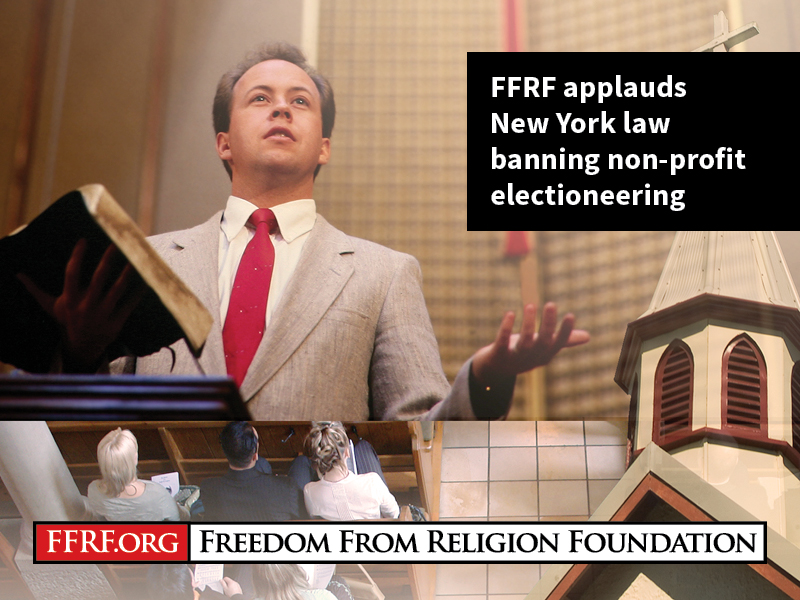 The Freedom From Religion Foundation is commending a recent move by New York Gov. Andrew Cuomo that codifies a federal restriction on nonprofit politicking into state law. The restriction, known commonly as the Johnson Amendment, prohibits churches and other tax-exempt organizations from intervening or participating in political campaigns.
The passage of this legislation (S. 4347/A.623) today is a critical step toward ensuring free and fair elections in New York. FFRF encourages other states to adopt similar protections.
During its tenure, the Trump administration has continually launched attacks against the Johnson Amendment, at times deceitfully claiming to have overturned the law altogether. Under an administration so hostile to the Johnson Amendment, it is more important than ever for state legislatures to ensure that tax-exempt dollars are not being used to compromise free and fair elections.
FFRF has fought fiercely to keep religion and churches out of the political arena. At several critical moments, FFRF has urged members of Congress, with the vital help of its members, to protect the Johnson Amendment.
FFRF has successfully sued the federal government to protect this important rule on two occasions. FFRF sued the IRS in 2012 for failing to enforce the Johnson Amendment, a lawsuit that resulted in an agreement with the IRS to fix the problem.
FFRF filed suit against the IRS and President Trump in 2017 over an executive order that he claimed would allow churches to politick: "This financial threat against the faith community is over. . . . You're now in a position where you can say what you want to say." FFRF forced Justice Department lawyers to admit to the court, twice, that Trump's order left the Johnson Amendment intact.
The Freedom From Religion Foundation is a national nonprofit organization with more than 30,000 members across the country, including over 1,500 members in New York. FFRF's purposes are to protect the constitutional principle of separation between church and state, and to educate the public on matters relating to nontheism.