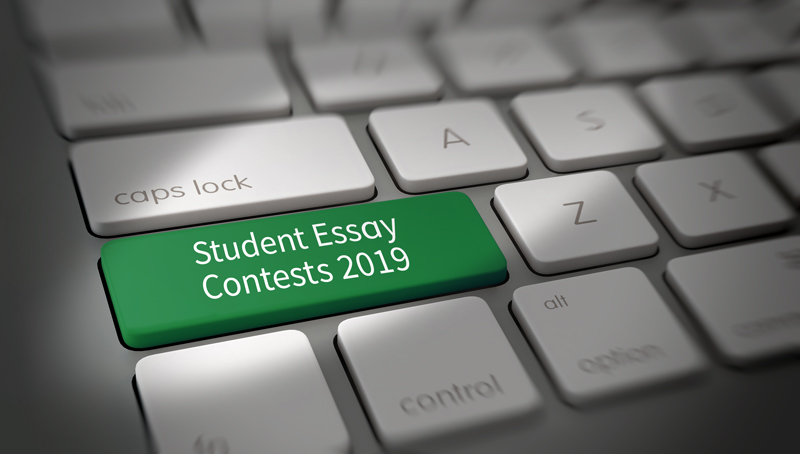 The Freedom From Religion Foundation is pleased to announce its four 2019 essay competitions for freethinking students — with more than $61,000 in total prizes. This year, FFRF has increased both the number of major prizes and the scholarship amounts.
"There have never before been so many 'Nones' and nonreligious students, and we at FFRF are delighted to offer these contests to reward independent thinking," says FFRF Co-President Dan Barker.
Each of the four contests now has 10 prizes: First place — $3,500; second place — $3,000; third place — $2,500; fourth place — $2,000; fifth place — $1,500; sixth place — $1,000; seventh place — $750; eighth place — $500; ninth place — $400; and 10th place — $300. FFRF also offers optional honorable mentions of $200. To encourage student activism, Florida FFRF members Dean and Dorea Schramm are providing a $100 bonus to any winner who's a secular student club member.
William J. Schulz Memorial Essay Contest for College-Bound High School Seniors: High school seniors graduating this spring and attending college in the fall are asked to discuss the topic: "Why we must rely on ourselves, not god, to solve the world's problems." Word limit: 300-350 words. Deadline: June 1.
Michael Hakeem Memorial Essay Contest for Freethinking College Students: Currently enrolled college students (up to age 24) may write on: "Living in the here and now — with 'no hell below us, above us only sky.'" (FFRF thanks Phil Zuckerman, author and professor of sociology and secular studies at Pitzer College, for suggesting the topics for this and the high school competition.) Word limit: 450-650. Deadline: July 1.
The David Hudak Memorial Contest for College Students of Color, open to students ages 17-21 (including college-bound high school seniors or currently enrolled college students), is on the topic of: "How has being free from religion enhanced your life?" They are also asked to reflect on how the secular community can better engage people of color. (Thanks to Black Nonbelievers President Mandisa Thomas for this year's topic.) This contest is offered to provide support and acknowledgment for freethinking students of color, as a minority within a minority. The three other contests are open to all students. Students may only enter one FFRF contest. Word limit: 450-650. Deadline: July 15.
Brian Bolton Essay Contest for Graduate/"Older" Students: Graduate students (through age 30) and "older" undergrads (ages 25-30) will ponder the topic: "The bible's continuing harm to civil liberties and U.S. society." They are asked to select at least one destructive or erroneous biblical passage whose influence continues to cause harm today to individuals, civil liberties or society. Brian Bolton is a retired professor who not only endows this contest, but is underwriting a new Bible Accountability Project with FFRF. Word limit: 550-750. Deadline: Aug. 1.
Additional prompts on the topics and other important information and contest rules can be found at: ffrf.org/studentessay
Students are required to submit their essay via the online application, and should carefully review all contest rules.
All eligible entrants will receive a digital year-long student membership in FFRF.
FFRF is appreciative of FFRF members who make the effort to contact local high schools, colleges and universities to help publicize its competitions. (See "ads" on the back inside cover of the Freethought Today wrap that may be copied or cut out and sent to your local schools or student acquaintances.) Or pass on the link: ffrf.org/studentessay