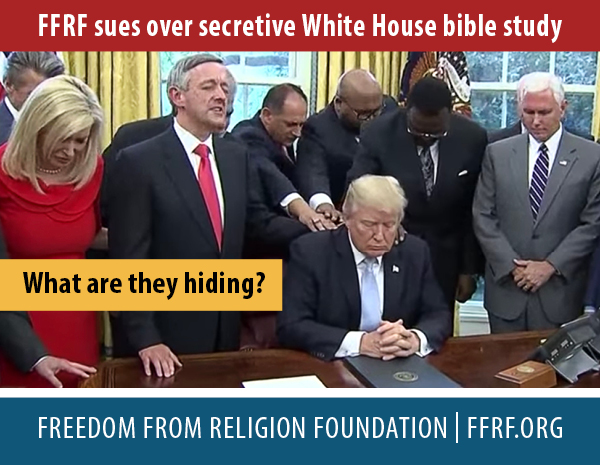 The Freedom From Religion Foundation is suing Secretary Ben Carson's Department of Housing and Urban Development for dodging records requests relating to a White House bible study. FFRF, a state/church watchdog, has teamed up with Citizens for Responsibility and Ethics in Washington, a government watchdog, to bring the federal suit.
It was filed today in the U.S. District Court for the District of Columbia. The lawsuit alleges that HUD has a pattern and practice of denying fee waivers on Freedom of Information Act requests "where disclosure of the requested documents is likely to cast the agency or HUD Secretary Ben Carson in a negative light."
According to reports, the Trump administration holds weekly bible study sessions at the White House. FFRF is seeking the records to determine whether or not the bible study uses government resources, whether staffers may feel coerced into organizing or even participating in the religious event, and to ascertain government access granted to Capitol Ministries, a group that seeks to evangelize elected officials.
The pious affair is apparently co-sponsored by Vice President Mike Pence. The list of bible study attendees includes officials whose appointments FFRF objected to because of their inability to keep their personal religion separate from their public office: Education Secretary Betsy DeVos, Attorney General Jeff Sessions, CIA Director Mike Pompeo, Energy Secretary Rick Perry, and, of course, Secretary Ben Carson, the surgeon whom President Trump tapped to run Housing and Urban Development. (Trump himself rarely makes an appearance.)
Every department that FFRF has requested records from has dragged its feet, but Carson and HUD have thrown up additional arbitrary and illegal barriers. When FFRF asked for the records in August, it requested, as is typical with 501(c)(3) groups, a fee waiver. HUD denied that fee waiver the day of the request because the records were allegedly not in the public interest. FFRF filed a lengthy appeal and HUD again refused the waiver because the records FFRF was seeking supposedly did not relate to HUD operations or activities.
"If this bible study is legal and aboveboard, as the Trump administration and Fox News have argued, what are they trying to hide by torpedoing the FOIA process?" asks FFRF Co-President Annie Laurie Gaylor.
FFRF's Director of Strategic Response Andrew L. Seidel began looking into the bible study and the possible waste of government resources in early August. Seidel appeared on Fox & Friends to explain the concerns with the bible study.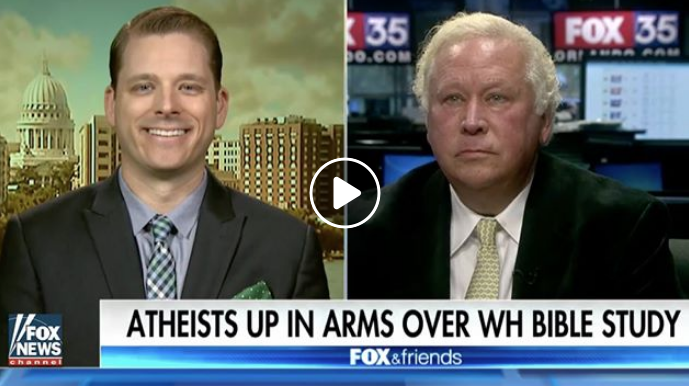 "We're still waiting on records from all the various departments involved in this bible study, but HUD has been particularly secretive and obstinate," says Seidel of the new lawsuit.
The records are important because the pastor leading the bible study is an extremist with access to the highest levels of our government. According to reports: "the man leading these sessions, Ralph Drollinger of Capitol Ministries, is a conservative Christian who has called Catholicism the 'world's largest false religion,' declared homosexuality an 'abomination,' and said it's 'sinful' for women with children to serve in Congress."
HUD also denied FFRF a fee waiver on a second request, filed in October, over Carson's daily schedule and appearance at "Revive Us 2," an event at the new Museum of the Bible. HUD refused the wavier the day after the FOIA request and denied FFRF's appeal.
CREW's fee waiver requests were also rejected. CREW sought a fee waiver and records, including emails, relating to the role Carson's son and wife play in HUD, where they are "omnipresent" fixtures. HUD denied another of CREW's waivers, this time for records relating to Carson's use of private planes to travel.
The allegations of this pattern and practice are topped off with other waiver denials HUD issued to ASPCA and Public Citizen, neither of which is a party to the lawsuit.
The watchdogs are seeking the fee waivers they are due under the law, to enjoin HUD from unthinking, blanket denials of waivers, and attorneys' fees and costs. They ask that in the public interest, their requests be finally granted.
The Freedom From Religion Foundation, based in Madison, Wis., a 501(c)(3) nonprofit educational charity, is the nation's largest association of freethinkers (atheists, agnostics), and has been working since 1978 to keep religion and government separate. With more than 30,000 members and 20 chapters all over the country, the organization also educates the public about nontheism.