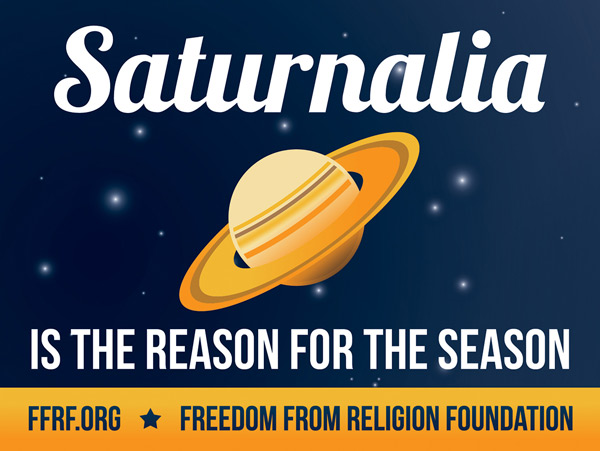 Reason's greetings! 'Tis the season . . . for many entanglements between state and church.
And that's the reason for this email! This is your handy guide to what resources FFRF can offer when you encounter religious displays on public property at this time of year. Many devotional displays go up as early as Thanksgiving and stay up well past the new year. FFRF can help!
COUNTERING RELIGION ON PUBLIC PROPERTY
FFRF can provide free secular displays to erect in public forums, with sufficient notice. We also have produced FFRF's handy Guide to Balancing Religion on Public Property to answer common questions and explain the current (murky) state of the law.
One reason to counter religious displays on public property is to ensure your point of view is represented at this time of year. Atheists, agnostics and other freethinkers should not be turned into outsiders in state capitols, county courthouses and city halls for the entire month of December.
The second important reason is to test so-called public forums. The addition of a nonreligious display next to a Christian nativity scene has, in many cases, persuaded governmental bodies to end such practices. Religion — or irreligion — is divisive and does not belong on governmental property. However, if the government chooses to create a public forum for religion in December, there must be "room at the inn" for all points of view, including dissent from religion. Our ultimate goal is to end public forums for religion. FFRF only erects equal time displays to counter existing religious displays.
SOLSTICE DISPLAYS AVAILABLE FROM FFRF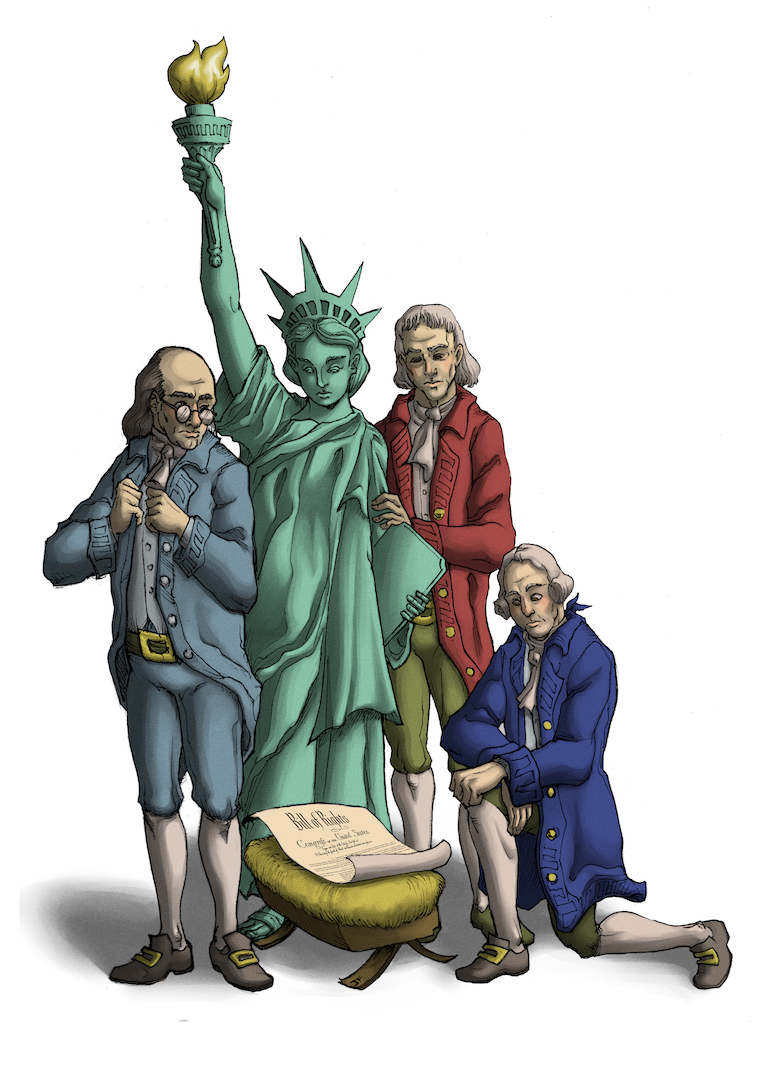 FFRF can offer two displays:
• Bill of Rights "Nativity." A free-standing aluminum cut-out Bill of Rights "Nativity" (see graphic) honors not only the Winter Solstice, but Bill of Rights Day on Dec. 15 (the anniversary of its adoption in 1791). This clever display was created by Jake Fortin, and depicts founders Franklin, Jefferson and Washington (kneeling) adoring the birth of the Bill of Rights, with the Statue of Liberty looking on. It is approximately 65'' by 47'' and comes with backing and a small attachable plaque with text explaining the display. (Since these are expensive displays to produce and ship, ideally someone requesting a display commits to storing and reusing it every year.)
• 'No Gods' Solstice Banner. A colorful 72'' by 41'' banner with grommets, with wording on both sides, features FFRF founder Anne Nicol Gaylor's famous words, coined to truly test so-called public forums:
"At this Season of the Winter Solstice, let reason prevail.
"There are no gods, no devils, no angels, no devils, no heaven or hell. There is only our natural world. Religion is but myth and superstition that hardens hearts and enslaves minds."
DO-IT-YOURSELF LAWN SIGNS
This year, FFRF is also offering free artwork for a do-it-yourself lawn sign to counter those ubiquitous "Keep Christ in Christmas" lawn signs. Ours says "Saturnalia is the reason for the season," a reference, of course, to the largest Winter Solstice festival in antiquity, celebrated by the Roman Empire to mark the shortest, darkest day of the year in the Northern Hemisphere (the derivation of today's "Christmas").
Just click to download the free image, which FedEx Kinkos or other office or sign supply stores can turn into a lawn sign for you.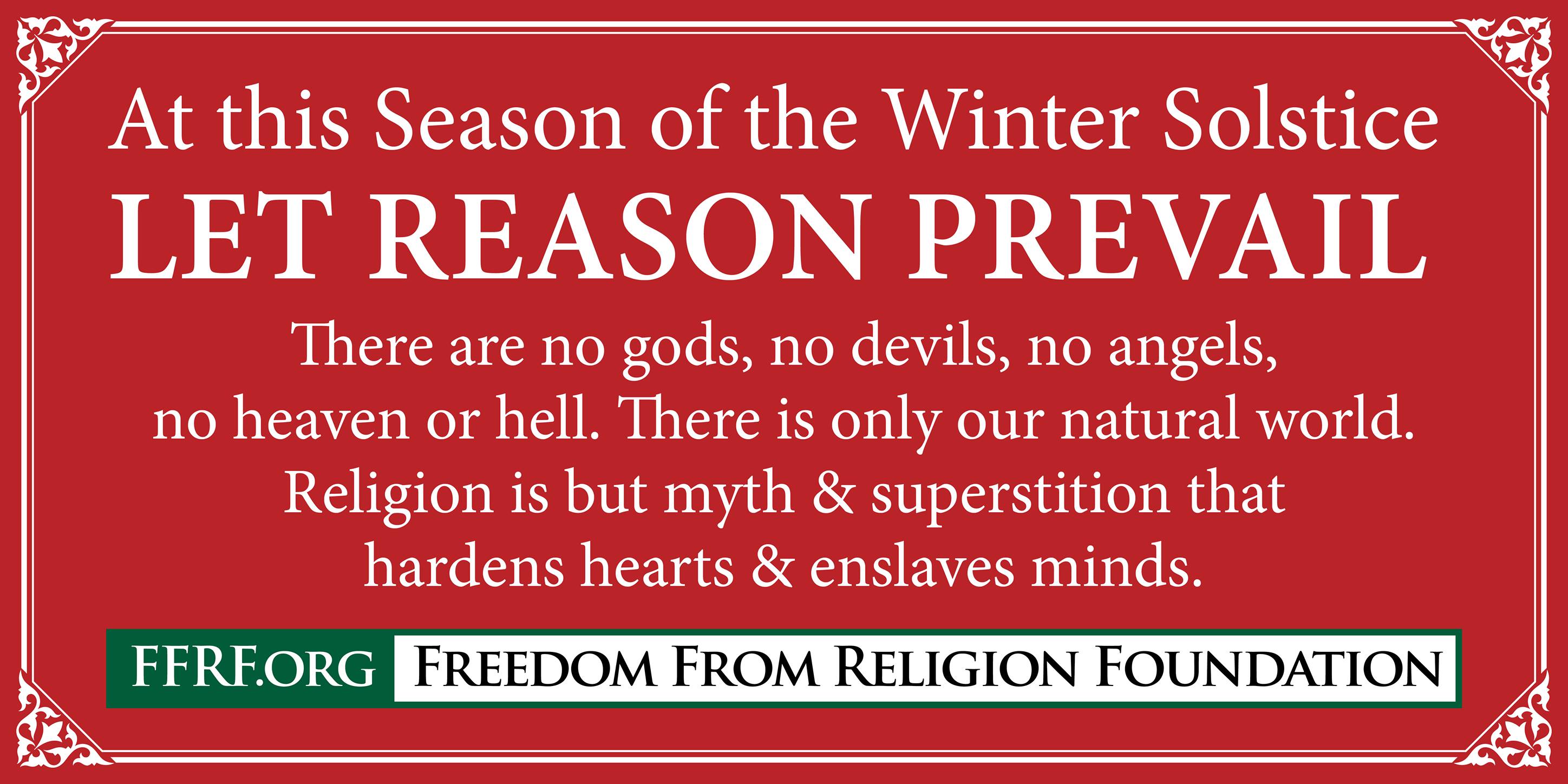 RESURRECTION FUND TO COMBAT VANDALISM
If you want to combat religion in government, another way to assist is to donate to FFRF's Resurrection Campaign. Pledge to donate each time an FFRF Winter Solstice display is vandalized or stolen (unfortunately a frequent occurrence). Your donation will be used to help replace signs and discourage tampering.

Activists, please step up!
Please contact FFRF's Legal Assistant by emailing This email address is being protected from spambots. You need JavaScript enabled to view it.