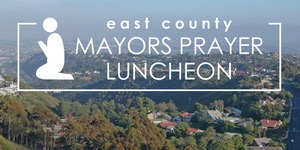 After a warning from the Freedom From Religion Foundation, two California mayors abandoned an official prayer luncheon with a disreputable speaker.
The annual East County Mayors' Prayer Luncheon on May 4 was billed as a chance to meet "mayors from 4 different cities" and included testimony from past lunches that portrayed it as a chance to lobby and influence local government.
FFRF asserted that lending mayoral titles and possibly city resources to a prayer lunch sent an official message of endorsement of religion over nonreligion that excluded many constituents.
"It is a fundamental principle of Establishment Clause jurisprudence that the government cannot in any way promote, advance, or otherwise endorse religion," FFRF Staff Attorney Andrew Seidel wrote to the mayors of El Cajon, Santee, La Mesa and Lemon Grove. "The federal Constitution also prohibits using taxpayer dollars or publicly funded employees and resources to organize, coordinate, and promote religious events. Courts have upheld restrictions on such activity."
FFRF also cautioned the mayors about the main speaker, David Barton, a divisive figure who has called AIDS his god's punishment for homosexuality. He regularly impugns religious minorities such as Muslims and nonbelievers, saying: "From a societal standpoint, there should be more concern over elected officials who are secularists and will swear an oath on no religious book, than for Muslims who swear on the Quran. After all, secularism presents a greater threat to American traditions and values than does Islam." Barton's book, "The Jefferson Lies," was so riddled with falsehoods that its publisher (which typically publishes bibles) pulled the book from shelves.
FFRF's missive asking the four mayors' offices to disassociate themselves from the prayer luncheon — combined with local public misgiving — made a big impact.
"Mayor Racquel Vasquez of Lemon Grove has sent regrets and will now not be attending the luncheon, Councilmember Jennifer Mendoza informed East County Magazine today," states a local publication in a story about FFRF's communiqué to the mayors. "Mendoza has also cancelled her attendance at the lunch due to Barton's participation. Mayor Mark Arapostathis of La Mesa has also reportedly cancelled his appearance."
FFRF is gratified that it helped change the minds of important government officials.
"These sort of official prayer events are inappropriate to begin with, and this one was made much more offensive due to Barton," says FFRF Co-President Annie Laurie Gaylor. "We're glad the mayors heeded our call — and the calls of their conscience."
The Freedom From Religion Foundation, dedicated to the separation of state and church, has more than 28,000 nonreligious members and chapters nationwide, including more than 3,000 and a state chapter in California.