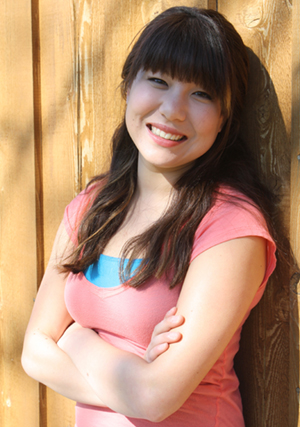 An atheist student whistleblower whose column was censored in the high school paper she edits in Lenoir City, Tenn., has received a student activism award from the Freedom From Religion Foundation for also bringing to light several unconstitutional endorsements of religion at the school.
Krystal Myers' article, "No Rights: The Life of an Atheist," also detailed negative treatment which Myers contends atheists are subjected to. The column never ran in the Panther Press but was printed in full in the Knoxville News Sentinel.
Myers, 18, received an FFRF Catherine Fahringer Memorial Youth Activist Award of $1,000 for her outspokenness. She's an honors student and captain of the swim team as well as being editor of the paper.
FFRF, which last year protested prayers in an algebra class and a nativity scene at Lenoir City Schools, laid out new concerns in Senior Staff Attorney Rebecca Markert's March 5 letter of complaint.
"Given that the school has allowed religious opinions and numerous other articles to be published in the school newspaper in the past, restriction of Ms. Myers' article is impermissible viewpoint discrimination," said Markert.
The letter also noted disturbing allegations about school-sanctioned prayer during the current school year, including at swim meets and football games, where the public address system is used.
Religious proselytizing by teachers is also alleged by Myers and another student: "One teacher has made her religious preferences known by wearing a T-shirt depicting the crucifix," and "strongly encouraged us to join [a religious club] and be on the group's leadership team." In addition, "One teacher has Bible verses occasionally as the teacher's 'Quote of the Day' for students."
Markert noted that no public school employee should be imposing his or her religious beliefs on students.
Local complainants have also told FFRF that the Lenoir City School Board opens meetings with prayer that includes invoking "Our Heavenly Father" and ending with "In Jesus' name we pray."
Federal courts have struck down school board practices that include this religious ritual, Markert said. "Oftentimes, school board meetings are attended by students who are directly affected by the policies and decisions made at the board meetings. This raises additional concerns given the line of cases prohibiting prayer at public school events. The Supreme Court has continually and consistently struck down prayer by school officials in the public schools."
FFRF expressed concern to school officials about harassment and threats against Myers. "We understand that some students have posted disparaging and threatening remarks on Twitter, and are concerned that the harassment will continue. The Lenoir High School student handbook provides that 'It shall be a violation of this policy for any employee or any student to discriminate against or harass a student through disparaging conduct or communication that is sexual, racial, ethnic or religious in nature.' "
Markert concluded that "It appears that Lenoir City Schools has countenanced and turned a blind eye to well-known violations and has chosen to only address the issues brought to its attention rather than remedying the entirety of the problem. It is very clear that a religious atmosphere has been directed and cultivated in the school district. The allegations set forth herein are egregious violations of the Establishment Clause.
"Lenoir City Schools are not exempt from the constitutional requirement that church and state be kept separate. Lenoir City Schools must remedy all of the constitutional violations discussed above immediately to prevent any further action by FFRF."