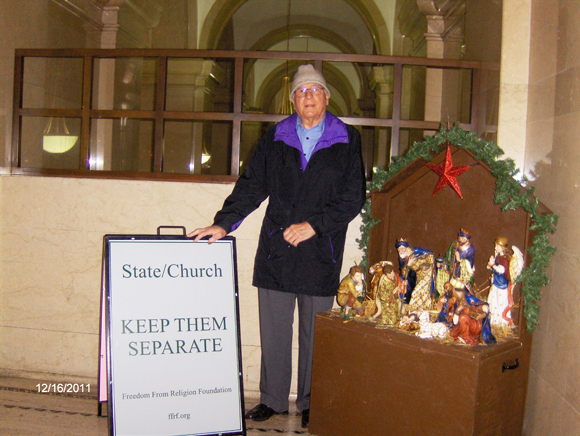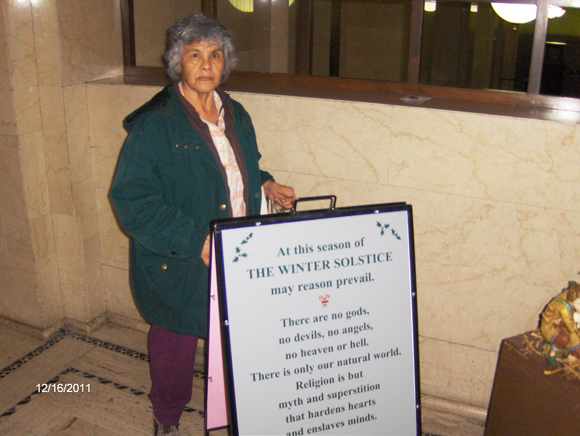 Although a Milwaukee member placing the Freedom From Religion Foundation's Winter Solstice sign was initially barred from passing through security at the Milwaukee courthouse this morning and the sign was temporarily confiscated an hour later, it appears to have found a home near a nativity display in the lobby.
FFRF Lifetime Member Edward Susterich delivered the festive display Friday morning about 9:30 a.m.
As FFRF Lifetime Members Edward and Maria Susterich were leaving the courthouse about 10:30 a.m., a security officer walked off with the sign. Ed protested, and after discussing the situation with county official Gary Waszak, interim director of facilities management, he was allowed to put the sign back.
Waszak agreed it was a free form display area with no permits required. FFRF Staff Attorney Patrick Elliott had contacted the county legal department in advance in an attempt to seek approval. Said Elliott: "The creation of a public forum at the courthouse means they cannot censor FFRF's 'equal time' Winter Solstice display."
FFRF wrote a letter of complaint last year to Lee Holloway, chair, Milwaukee County Board of Supervisors, on behalf of its Milwaukee-area members protesting the devotional display appearing in the lobby every December. Then-County Executive Scott Walker helped private individuals first place the crèche in the rotunda in 2009. FFRF's letter went unanswered.
FFRF's Winter Solstice sign, on one side, reads "State/Church: Keep Them Separate," and on the other says:
"At this season of the Winter Solstice, let reason prevail. There are no gods, no devils, no angels, no heaven or hell. There is only our natural world. Religion is but myth and superstition that hardens hearts and enslaves minds."
"We were tired of being stonewalled," commented Dan Barker, FFRF co-president. "Fifteen percent of Milwaukee County is nonreligious. This is their courthouse, too, supported with their tax dollars, and if religion is going to be there, there has to be 'room at the inn' for the nonreligious perspective."