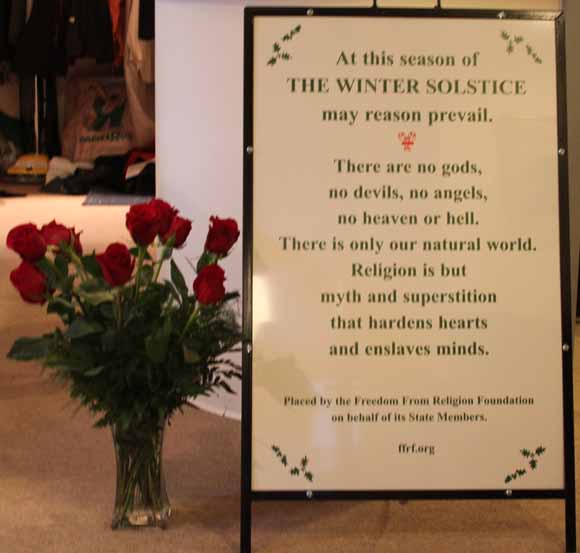 FFRF's Winter Solstice sign to be placed in Milwaukee Courthouse
An "equal time" Winter Solstice display by the Freedom From Religion Foundation will be placed tomorrow at 10 a.m. inside the Milwaukee County Courthouse to protest a nativity display.

FFRF's Winter Solstice sign reads:
"At this season of the Winter Solstice, let reason prevail. There are no gods, no devils, no angels, no heaven or hell. There is only our natural world. Religion is but myth and superstition that hardens hearts and enslaves minds."
The back reads: "State/Church: Keep Them Separate."

FFRF wrote Lee Holloway, Chair, Milwaukee County Board of Supervisors, last year on behalf of its Milwaukee area members and local complainants about the devotional display. It is our understanding that then-County Executive Scott Walker helped private individuals to place the crèche in the rotunda in 2009. There was no disclaimer or identification of the group placing the crèche or "Angel Tree" last year. The county did not respond to FFRF's complaint.

FFRF Attorney Patrick Elliott said that the county's practice of allowing citizens to freely place displays in the courthouse has created a public forum. The county may not permit only religious forums, but must allow FFRF's display.

FFRF has received multiple complaints this year and last year about the sectarian display in the Courthouse.

FFRF Lifetime Member Edward Susterich, who just retired as a long-time officer of the state/church watchdog, will deliver a festive display Friday morning about 10 a.m.