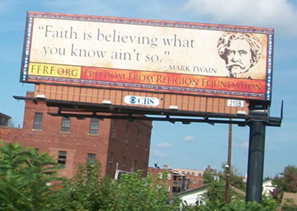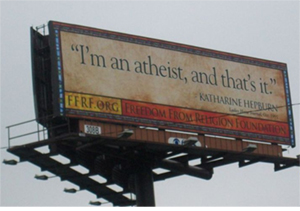 The Freedom From Religion Foundation will be welcoming attendees to its national convention the weekend of Oct. 7-9 in Hartford, Conn., with two 14x48-foot billboards honoring freethinker Mark Twain and native daughter and atheist Katharine Hepburn. FFRF, based in Madison, Wis., is the nation's largest association of freethinkers (atheists and agnostics), with over 17,000 members nationwide who also work to keep religion out of government.

A fall-colored billboard off Interstate 91 south of Weston Street just went up, which quotes Katharine Hepburn saying "I'm an atheist, and that's it." The quote is from her Ladies Home Journal interview in October 1991: "I'm an atheist, and that's it. I believe that there's nothing we can know except that we should be kind to each other and do what we can for other people."

"We love this quote, which is humble and humanistic and true — there is no proof of an afterlife," says FFRF co-founder Annie Laurie Gaylor. "Nonbelievers believe in life before death, not life after death, and in making the best of this world, the only world we know exists," adds Gaylor, a lifelong nonbeliever. She directs FFRF with her husband Dan Barker, a former evangelical missionary who is the author of the books "Godless" and "Losing Faith in Faith — From Preacher to Atheist."

Hepburn made many public statements about her nonbelief, including in her famous interviews by Dick Cavett and in her autobiography "Me."

A second FFRF billboard just posted at Interstate 84 near Olive Street quotes Mark Twain's Puddin'head Wilson: "Faith is believing what you know ain't so."

"We chose Hartford as the site for our 34th national convention not only because it's a convenient location for many Northeasterners, but literally because we've always wanted to tour Twain's home," Barker says.

FFRF has arranged a preconvention group tour of the Twain home on the afternoon of Friday, Oct. 7.

"The ranks of nonbelievers are disproportionately filled with giants like Twain and Hepburn, social reformers, iconoclasts, scientists, artists and other achievers who have enriched humanity and advocated rational conduct," Gaylor notes.

That tradition continues, as exemplified by the speakers and honorees at the upcoming FFRF convention. The event is headlined by Harvard University's evolutionary psychologist Steven Pinker, MacArthur scholar and novelist Rebecca Newberger Goldstein and Jerry Coyne, University of Chicago professor in the Department of ecology and evolution and author of "Why Evolution is True." Pinker's newest book, "The Better Angels of Our Nature: Why Violence Declined," hits bookshelves Oct. 4.

A special guest appearance will be made by Broadway icon and composer Charles Strouse ("Annie" and "Bye, Bye Birdie"). Strouse, who is nonreligious, will speak and entertain at the piano following the Saturday night banquet.

Goldstein will receive FFRF's Freethought Heroine 2011 Award. Coyne and Strouse will each receive FFRF's coveted Emperor Has No Clothes Award, which honors public figures for "plain speaking" on the subject of religion. It features a golden statuette of the Hans Christian Andersen character made for FFRF by the company that produces the Oscars. Honorees are compared to the small child in the fairy tale for "telling it like it is" about religion.

Other honorees include three student activists, two of whom have protested illegal proselytizing in their public schools, including 16-year-old Jessica Ahlquist, who is suing her Rhode Island high school; a Freethinker of the Year (Mitch Kahle, whose efforts halted prayers in the Hawaii Senate this year), and Atheist in Foxhole honoree Steve Trunk, a veteran and litigant in a 9th Circuit U.S. Court of Appeals case in which the court ruled the Mount Soledad cross in California cannot masquerade as a secular "war memorial."

Also speaking is former Christian rocker Joe Taylor, who will talk about losing his faith.

The weekend includes the Friday evening complimentary dessert and social, the Saturday morning Non-Prayer Breakfast with its "moment of bedlam," and the Saturday evening drawing for "clean" (no "In God We Trust") currency.

While registration for the Twain tour and group meals closes on Friday, Sept. 30, FFRF will accept registrations at the door to attend the convention. The event formally begins at 7 p.m. on Friday, Oct. 7, and continues through Saturday night. Convention attendance (but not meals or the tour) is free to students who preregister with FFRF and provide a copy of their current student ID.