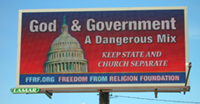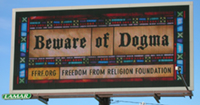 The Freedom From Religion Foundation and its newest chapter, the Lake Superior Freethinkers, are jointly sponsoring for one month a digital billboard currently up on Interstate 35 entering Duluth, Minn. The billboard displays three messages in rotation:

Imagine No Religion
Beware of Dogma
God & Government — A Dangerous Mix

The sign includes the lettering FFRF.ORG and Freedom From Religion Foundation. FFRF started its billboard campaign in 2007 in its home base of Madison, Wis., and has since placed more than 50 billboards in more than 30 cities in 23 states. The goal is to counter roadside religion with freethought billboards in every state (except in a few states like Hawaii, where they are banned), especially in capital cities.
Lake Superior Freethinkers was organized in 1997, but has recently joined FFRF as one of its official chapters. LSF supports rational thought, morality without superstition, freedom from religion and separation of church and state, said founder William van Druten. The group's motto is "Ecce homo sine superstitione," Latin for "Behold humanity without superstition."
Some billboards placed in the past year have been suggested and paid for entirely or partly by generous local members. Others have been paid for via the billboard fund, a pool of contributions collected for this purpose.
"We are very appreciative of this effort by the Lake Superior Freethinkers," said Dan Barker, FFRF co-president. "Their members paid for more than half of the billboard lease and found the location. It's our first chapter in Minnesota, but there's also a Badger State connection since Superior, Wis., is right across the border."
Van Druten, a retired physician, tells how he founded LSF in 1997 after the merger of the Duluth Clinic with the Catholic St. Mary's Hospital. "The merger meant that the clinic had to formally adopt a 'no abortion' policy. Each physician had to sign a statement that they would abide by Catholic Directives for Healthcare. The directives demanded that all patients, Catholic or not, would be treated according to Catholic restrictions denying contraception, pregnancy termination in case of rape, elective sterilization and so on. Papal dictates trumped legal, standard, modern medical care.
"I signed the required statement with my underlined amendment, 'for consenting Catholics only.' I was dropped from the medical staff of the hospital. That was not really a problem for me as I only rarely consulted in-hospital. I practiced outpatient psychiatry at the clinic and was due to retire shortly after 31 years. However, I was shocked that only three of my medical colleagues were offended by Catholic supervision of their medical science or by the infringements of the civil rights of their patients."
"The Foundation welcomes the new chapter to FFRF's family," said Co-President Annie Laurie Gaylor. "We look on it as the more the merrier, as religious intrusion in our lives gets scarier and scarier."