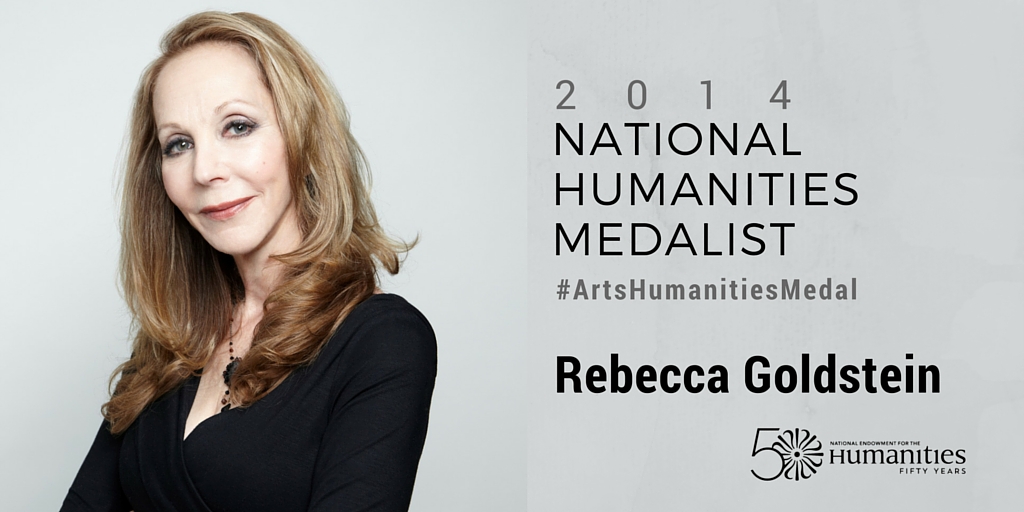 Among the distinguished recipients of the 2014 National Humanities Medal announced today by the White House is Rebecca Newberger Goldstein, an author, philosopher and honorary director of the Freedom From Religion Foundation. Other awardees include historians, writers, preservationist, food activist and an education course. President Barack Obama will confer the medal in a September 10 ceremony in the East Room.

Newberger Goldstein received a "Freethought Heroine" award from FFRF in 2011. Read Rebecca's acceptance speech here, which poignantly chronicled her migration as the silenced daughter of an Orthodox Jewish family to an outspoken expositor of reason.
Among Newberger Goldstein's books are novels including "36 Reasons for Believing In God: A Work of Fiction," and nonfiction, including "Betraying Spinoza: The Renegade Jew Who Gave Us Modernity," and most recently "Plato at the Googleplex: Why Philosophy Won't Go Away."
Newberger Goldstein received her Ph.D. in philosophy from Princeton University and taught philosophy for most of her life. She is the recipient of many awards for both her artistic and scholarly works. In 1996 she was named a MacArthur Fellow (the "genius" award). She is married to Harvard evolutionary psychologist Steven Pinker, currently serving as FFRF's Honorary President.

The National Humanities Medal honors an individual or organization whose work has deepened the nation's understanding of the human experience, broadened citizens' engagement with history and literature or helped preserve and expand Americans' access to cultural resources.
The National Endowment for the Humanities (NEH) manages the nominations process for the National Humanities Medal on behalf of the White House. Each year NEH invites nominations from individuals and organizations across the country. The National Council on the Humanities, NEH's presidentially-appointed and Senate-confirmed advisory body, reviews the nominations and provides recommendations to the President, who selects the recipients.
"The National Endowment for the Humanities is proud to join President Obama in celebrating the achievements of these distinguished medalists," said NEH Chairman William Adams. "The recipients of this medal have sparked our imaginations, ignited our passions, and transformed our cultural understanding. They embody how the humanities can serve a common good."