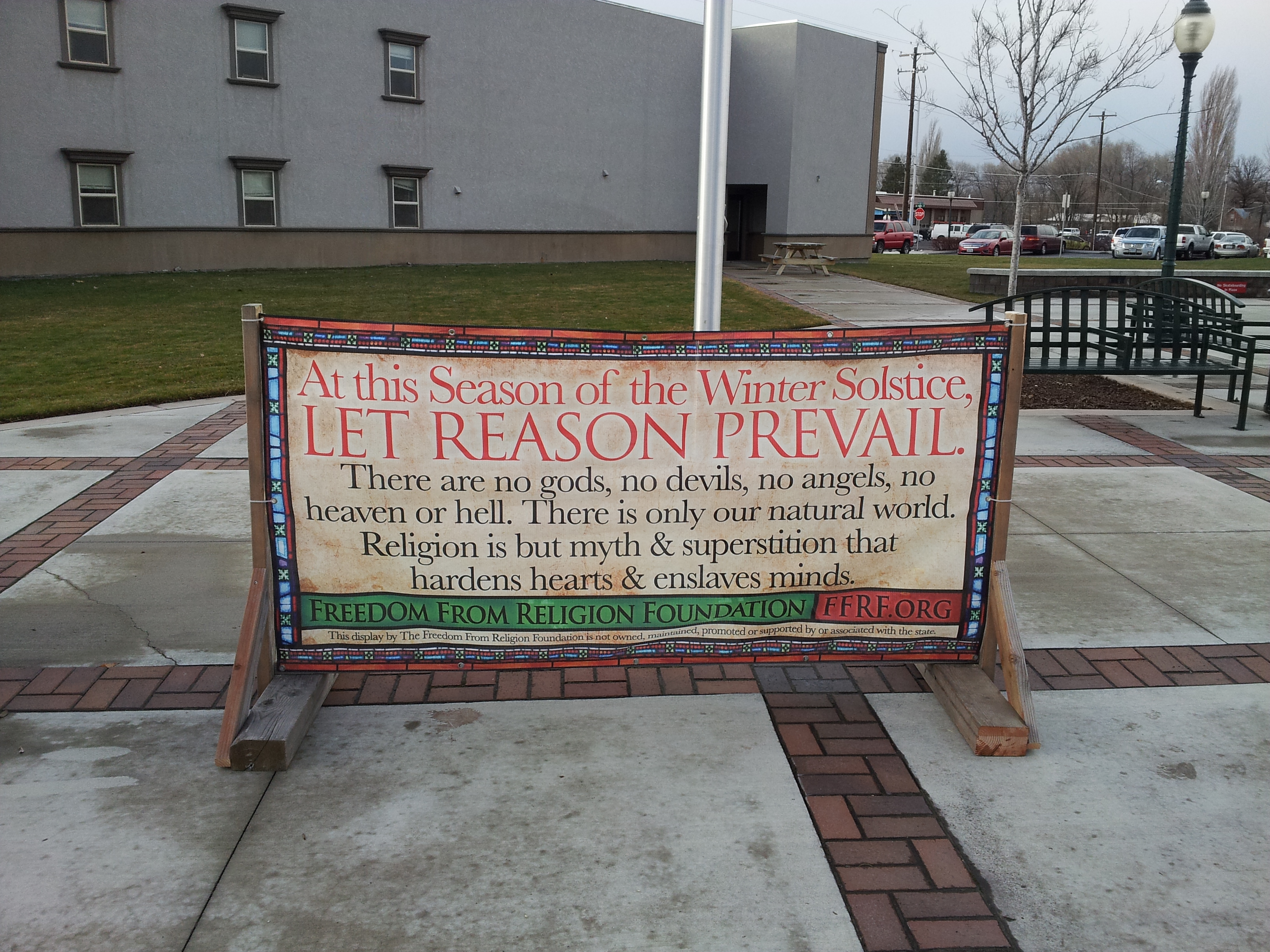 Religion "hardens hearts & enslaves minds" declares the Freedom From Religion Foundation on its newly placed Winter Solstice banner challenging a nativity scene on government property near city hall in Prineville, Ore.
FFRF is a national state/church watchdog with over 20,000 members nationwide, including more than 600 in Oregon.
FFRF has openly opposed the nativity display since 2010 when Senior Staff Attorney Rebecca Markert asked the mayor to move the nativity onto private property.
"There are ample private and church grounds where religious displays may be freely placed. Once the government enters into the religion business, conferring endorsement and preference for one religion over others, it strikes a blow at religious liberty, forcing taxpayers of all faiths and of no religion to support a particular expression of worship," Markert said.

In response to FFRF's appeal, the city voted not to sponsor any further nativities. In 2011 and 2012, a local resident "leased" city plaza and erected another crèche. The lessee allowed FFRF to plant its sign, but FFRF opposed the reservation system because it could grant power to the lessee to deny individuals a "room at the inn."
This year, the Crook County Parks and Recreation Department created 7 spots for displays and managed the permit process. FFRF was granted a permit for its solstice banner.
The 7½-by-3 foot banner states:
"At this Season of the Winter Solstice, LET REASON PREVAIL. There are not gods, no devils, no angels, no heaven or hell. There is only our natural world. Religion is but myth & superstition that hardens hearts and enslaves minds."
The Winter Solstice, the shortest and darkest day of the year, takes place this year on Saturday, Dec. 21. This natural holiday signals the return of the sun and the new year, and has been celebrated for millennia in the Northern Hemisphere with festivals of light, evergreens, feasts and gift exchanges.
"It is our hope that one day government spaces will be free from religious — or irreligious — displays, but until then we will do our best to counter these unlawful displays and remind passersby of the 'real reason for the season' — the Winter Solstice," said FFRF Co-President Annie Laurie Gaylor.
"Christians don't own the month of December," added Co-President Dan Barker. "No month is free from 'pagan' reverie."