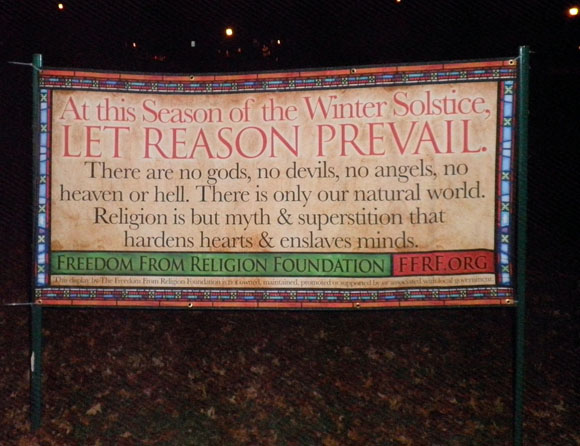 The Freedom From Religion Foundation has placed a Winter Solstice banner in Streator's city park today to counter a nativity scene and Christian display on public property.
FFRF is a national state/church watchdog with over 20,000 members nationwide, including nearly 760 in Illinois.
"Erecting a manger scene on public property is an exclusionary act, which tells the many non-Christian and nonreligious Streator residents and passersby that 'there is no room at the inn' for them. It's time to make room for other viewpoints, and to celebrate the real reason for the season — the Winter Solstice," said FFRF Co-President Annie Laurie Gaylor.
The Winter Solstice, the shortest and darkest day of the year, takes place this year on Saturday, Dec. 21. This natural holiday signals the return of the sun and the new year, and has been celebrated for millennia in the Northern Hemisphere with festivals of light, evergreens, feasts and gift exchanges.
"It is our hope that one day government spaces will be free from religious — or irreligious — displays, but until then we will do our best to counter these unlawful displays and remind passersby of the 'real reason for the season' — a natural holiday," added Gaylor.
"Christians don't own the month of December," added Co-President Dan Barker. "No month is free from pagan reverie."
FFRF thanks its local members for placing this display.