Here are photos of the unique display placed by FFRF/FFRF Metropolitan Chicago Chapter taken on Tuesday, Nov. 26, 2013, at Daley Plaza, Chicago. (The famous Picasso sculpture is in the background.) Many thanks to Evan Kane for his photographs, and "Happy Birthday" to his daughter, Alexa, who witnessed the display going up on her 14th birthday.

The "A is for Atheism" 8-foot light display features the distinctive cursive "A" adopted by the Richard Dawkins Foundation as part of Dawkins' "out" campaign. The red lights make it shine at night. Beside it is a sturdy sign explaining the display.
Above left: Chapter members with banner. Above right: Chicago chapter leaders Tom Cara and Evan Kane and FFRF Co-President Annie Laurie Gaylor and Dan Barker
The irreverent banner depicts a different kind of nativity scene: the birth of the Bill of Rights, whose anniversary is Dec. 15. Standing or kneeling in adoration: constitutional framers Benjamin Franklin, Thomas Jefferson and John Adams, plus the Statue of Liberty. A copy of the Bill of Rights, which was adopted in 1791, is in the manger.
"We thank FFRF Metropolitan Chicago Chapter director Tom Cara for making this happen, chapter vice president Evan Kane, and all the hardworking volunteers who housed, transported or assembled this complicated display in the cold Tuesday, as well as FFRF members who came to lend moral support," said FFRF Co-Presidents Dan Barker and Annie Laurie Gaylor, who were in attendance.
Tom Cara added: "We owe a huge debt of gratitude to FFRF staff attorney Patrick Elliott, who worked so hard to make sure FFRF was able to secure a spot in the Plaza for this year. Thank you, Patrick, for all your efforts."
The freethought display went up along Dearborn Street near the menorah and where the crèche is going. (See Press Release about the Chicago chapter placing the displays.)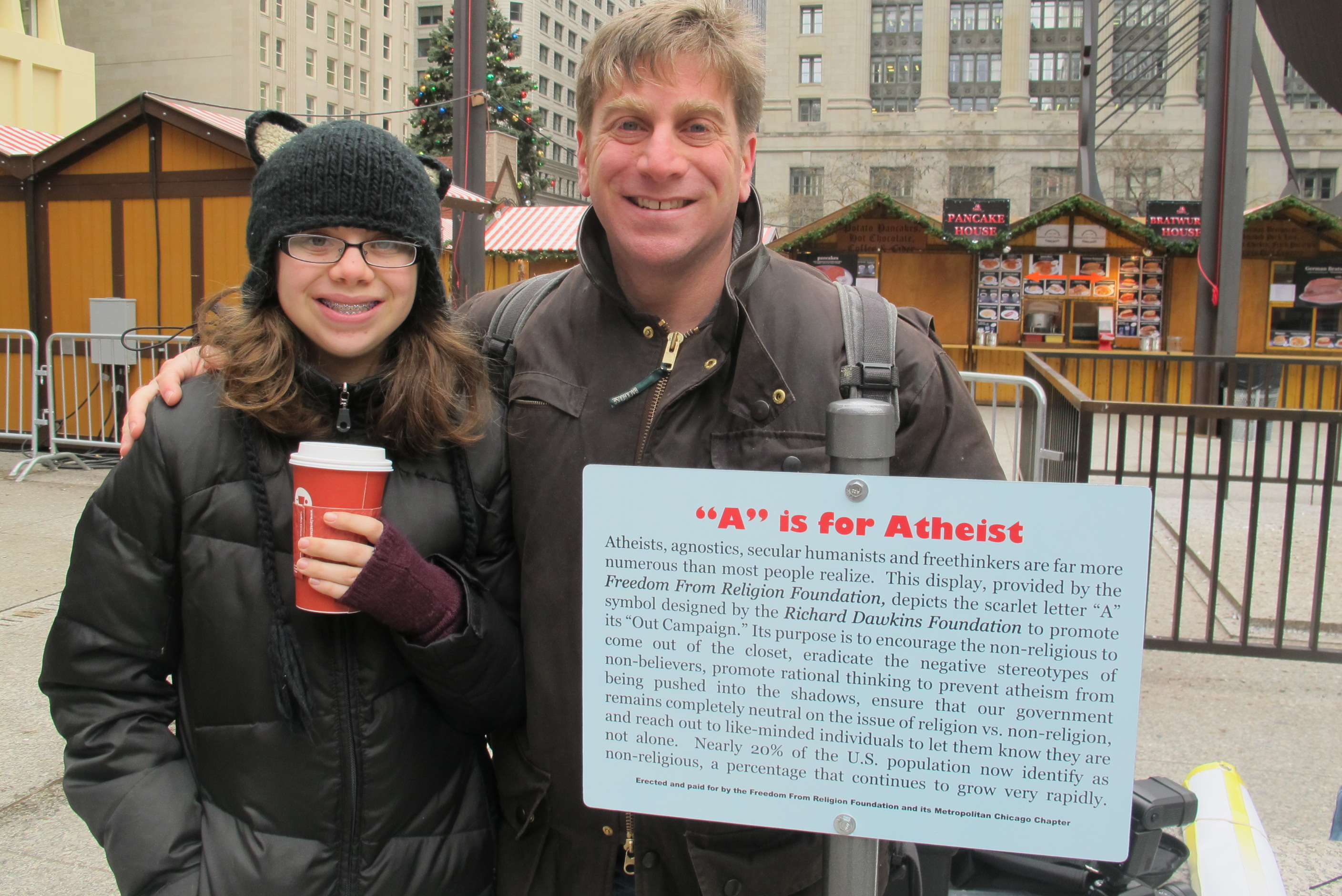 Above: Alexa Kane, 14, and her dad, Evan. Happy Birthday, Alexa (who turned 14 that day).
Below: FFRF member Kathy lending moral support