The Freedom From Religion Foundation is running a full-page ad celebrating "our GODLESS Constitution" in a number of U.S. dailies on July 4. FFRF, a state/church watchdog based in Madison, Wis., serves as the nation's largest association of freethinkers (atheists and agnostics).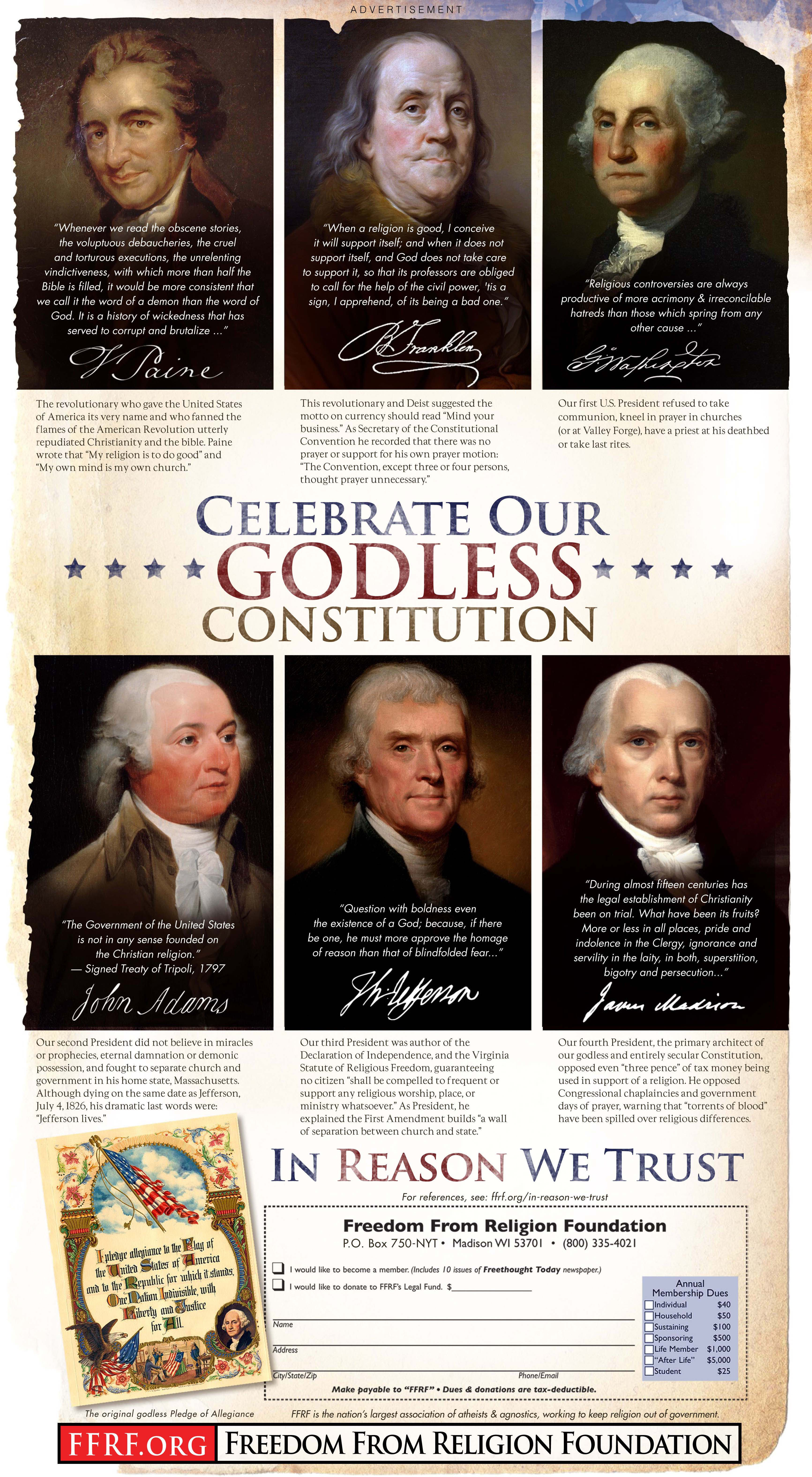 The ad is a direct response to a series of July 4 ads sponsored annually by Hobby Lobby since 2008, which shamelessly promote the myth that the United States was founded on God and Christianity. The large craft store chain's ads of disinformation appear ti run in hundreds of dailies. Although FFRF can't compete with Hobby Lobby by running ads in virtually every daily, it is undertaking the single most expensive ad campaign in its history to counter the Religious Right message.
The ads quote U.S. Founders and Framers on their strong views against religion in government, and often critical views on religion in general. The ad features two revolutionaries and Deists, Thomas Paine and Benjamin Franklin, and the first four presidents: George Washington, John Adams, Thomas Jefferson and James Madison.
The ad documents that not only is the U.S. Constitution godless, but that there was no prayer during the Constitutional Convention, and that the Constitution's primary architect, Madison, came to oppose government days of prayer, congressional chaplaincies and even "three pence" of tax dollars used in support of religion. The ad includes a website link that not only documents the quotations, but takes the reader to the original script in most cases!
FFRF's ad will run in The New York Times, the Los Angeles Times, the Arizona Republic, Seattle Times, Albuquerque Journal, Chicago Tribune, Denver Post and Columbus Dispatch. Most of the ads are in black and white, but a color version will run in The New York Times and a few other dailies.
The ad is also scheduled to "play in Peoria." Taking its message of "In Reason We Trust" to parts of the bible belt, FFRF has also contracted to run the ad in the Huntsville Times, Ala.; Orange County Register, San Diego Tribune, Colorado Springs Gazette, Orlando Sentinel, Louisville Courier Journal, Jackson Clarion Ledger, Miss., Charlotte Observer, Tennessean (Nashville), and Oklahoma City's Daily Oklahoman. (Hobby Lobby is based in Oklahoma City.)
Hobby Lobby is also involved in litigation challenging Obamacare's contraceptive mandate — seeking to permit religious employers to deny women employees contraceptive health care.
Click on the advertisement to view larger, then click again to view at 100%.