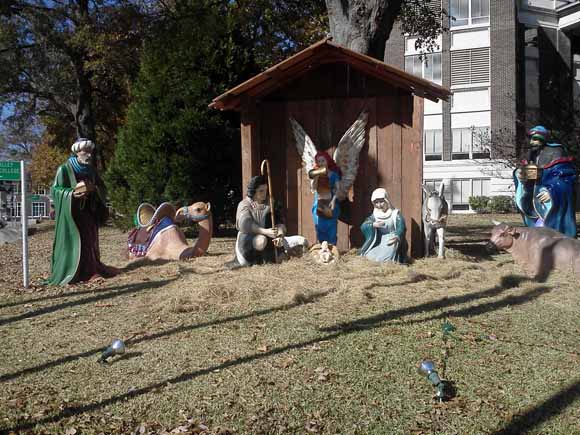 The Freedom From Religion Foundation received word on Oct. 24 that Henderson County, Texas, is refusing to permit it to post an "equal time" display on courthouse grounds by the large Christian nativity display dominating an entire corner. The devotional display is lit at night.
FFRF's complaint late last year, on behalf of a local citizen, snowballed into a major controversy in Texas, with 5,000 "Christian soldiers" marching in an Athens rally, and even the attorney general chiming in. After Henderson County commissioners made public statements indicating there was a public forum, the county refused permission to FFRF or its local complainant to put up a winter solstice banner describing the freethought point of view.
The banner notes:
"At this Season of the Winter Solstice, may reason prevail. There are no gods, no devils, no angels, no heaven or hell. There is only our natural world. Religion is but myth and superstition that hardens hearts and enslaves minds."
"We feel from the beginning that FFRF and our area membership have been given the run-around by county officials. They made us jump through hoops submitting our application, yet it was clear from the outset they had no intention of allowing any other point of view," said Annie Laurie Gaylor, FFRF co-president.
"Henderson County is not a 'Christian county,' Athens is not a 'Christian town,' Texas is not a 'Christian state' and the United States is not a 'Christian nation.' Majority does not rule over matters of personal conscience. A county government should not be taking sides in religion, or promoting or endorsing Christianity over other religions, or religion over nonreligion," Gaylor added.
"When the county hosts at its seat of government a manger scene proclaiming the legendary birth of Jesus as the messiah, it is unlawfully placing government behind Christianity, at the expense of non-Christians and nonbelievers," she added.
Gaylor accused Henderson County of censorship.
A complaint by FFRF last month over bible-banner-toting cheerleaders at public high school games in Kountze, Texas, has kicked off another heated controversy. Attorney General Greg Abbott, who offered comfort and support to Henderson County last year, attacking FFRF by name, held a press conference with Gov. Rick Perry on Oct. 17, again singling out FFRF by name, and, said Gaylor, creating a climate of hostility toward Texas nonbelievers.
The Madison, Wis.-based national association has more than 19,000 members, including 900 in Texas.