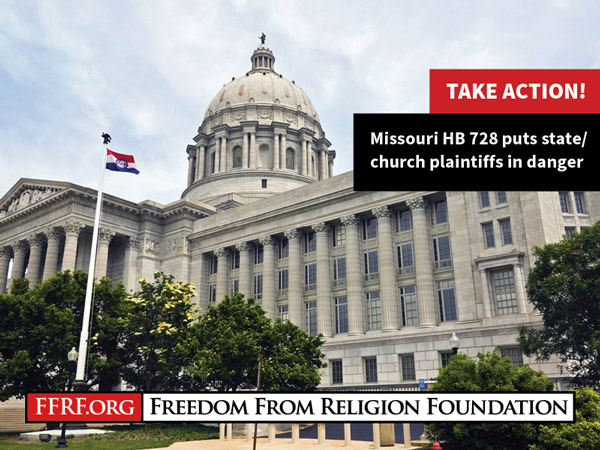 A Missouri House bill, HB 728, would threaten the safety and well-being of plaintiffs involved in state/church separation cases by requiring them to reveal their identity — even in instances where they are the recipients of violent threats. This bill has already passed the Missouri House and we need your help to stop it.
Oftentimes, if FFRF or a similar organization takes a case, we file a protective order to keep the complainants' identity secret to protect them from retaliation and threats of violence within his or her community. A judge is able to balance the interest of the public right to know the identity of the plaintiff with the potential dangers to that person. HB 728 requires that "the name of the real party in interest" be used "in any action arising under the Establishment Clause of the First Amendment to the United States Constitution or under Article I, Section 5 or 7 of the Constitution of Missouri," unless the party is a minor.
This is a blatant attempt to deter citizens from holding truth to power and filing suit against the Missouri government for state/church violations. It also will, in no uncertain terms, put plaintiffs in danger. At FFRF, we have seen firsthand that it is common for those who sound the alarm on state/church violations to be subject to ridicule, ostracization, bullying and threats of violence. FFRF Staff Attorney Ryan Jayne made this clear in his testimony to the House in February, but it passed the bill anyway.
The Missouri Senate Committee on Judiciary and Civil and Criminal Jurisprudence will discuss this bill at its hearing on Monday, May 6, at 2 p.m. at the Capitol. If you are able to attend the hearing to show local opposition to this dangerous bill, please show up.
Please use our automated system to ask the Missouri House Judiciary Committee to oppose this bill and continue to allow judges to protect plaintiffs from violence and vitriol in cases where it is deemed necessary. Click on the red "Take Action!" link below and feel free to use or adapt the talking points provided.