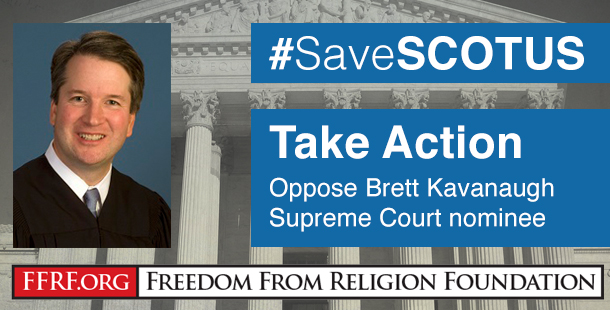 We need your help to save the wall of separation between state and church, our secular government and our godless Constitution. Please tell Senator Collins to oppose the nomination of Judge Brett Kavanaugh to the U.S. Supreme Court.
With your help, we've defeated other zealous Trump nominees. Senator Collins is under pressure to vote to confirm Kavanaugh.
In March 2017, Susan Collins spoke on the Senate floor in support of Neil Gorsuch, stating that she asked him "if it would be sufficient to overturn a long-established precedent if five justices believed that a previous decision was wrongly decided. He responded: 'emphatically no.'" Nevertheless, Gorsuch wasted no time joining four other justices in overturning the 1977 labor law decision, Abood v. Detroit Board of Education. Kavanaugh's assurances that he would leave pro-choice decisions in place is a lie to swindle Collins' vote.
The Washington Post referred to this as "Susan Collins' grand delusion." Please encourage Senator Collins not to make the same mistake with women's health care on the line.
With sustained effort by all of us, we can save the fabric of our secular republic from unraveling. Your actions are never wasted — Senate offices DO feel the heat when constituents put pressure on them, and Senator Collins' office is currently receiving heavy pressure from the other side on this crucial issue. Please don't stay silent at this pivotal moment.